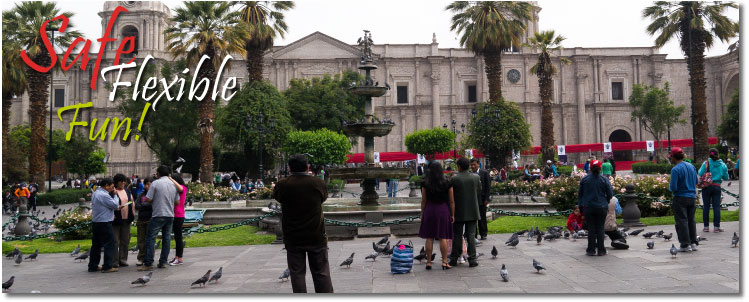 Arequipa is a picturesque city located in the south of Peru, about 15 hours by bus from Lima. It is Peru's second largest city with a population of over 800,000 people and is arguably the most beautiful city in Peru. The city is situated about 2,335 metres above sea level in the shadows of the stunning ice-capped Misti Volcano (5,822 metres) and nearby volcanoes Chachani (6,075 metres) and Pichu Picchu (5,425 metres). Hence, it is seen as the perfect place for hopsters to acclimatize to altitude for tours of the Colca Valley and Machu Picchu further down the line.
Hopsters will be happy to know that the climate is generally pleasant all year round with more than 300 days of sun annually. For this reason, it is known as the 'City of Eternal Blue Sky'. Temperatures in summer (Dec-Mar) average 25C; however, this is also the rainy season so be prepared! Winter (Jun-Aug) is dry with an average temperature of 10C and it can feel really chilly in the evenings.
For hopsters who love architecture, the city is also known as "La Ciudad Blanca" or the "White City" due to the beautiful white structures seen around the city. It is built out of "sillar", a white rock obtained from the numerous nearby volcanoes. The historical centre of the city is filled with numerous religious convents, monasteries, catholic churches and museums. Thus, the Historical Centre has been named a Cultural World Heritage Site by UNESCO. All of this is just a short walk for hopsters from our preferred hostels!
The local cuisine in Arequipa is argued locally to be the most varied cuisine in all of Peru. In Arequipa we encourage hopsters to check out many of the traditional "Picanterias" to try out the local dishes such as Rocoto Relleno (can be quite popular so make sure to ask in advance), Alpaca Steaks, Ocopo, Chactoad and many more. In addition, the nightlife in Arequipa is amongst the best in Peru, with many late night bars and discotheques. Don't worry, our hopster guides will ensure that we are on the guest list at all the happening places so we don't need to pay to get in!
The main attraction in the Arequipa area has to be the scenic Colca Valley, an area of incredible beauty. It is one of Peru's top tourist destinations and one we highly recommend hopsters to check out. It is one of the world's deepest canyons, reaching a depth of 4,160 meters and is home to the Cruz del Condor, a viewpoint where famous Andean Condor birds can be seen on most days throughout the year. The valley also has a vibrant indigenous culture, including many examples of Inca agricultural terraces and irrigation systems. There are hot springs at La Calera as well as a range of adventure sports and tourist home-stays. A wide spectrum of tours and excursions leave Arequipa daily and we can facilitate or recommend tours to anybody on board, just simply contact us or ask your Peru Hop guide!
Must Do/See:
Colca Valley Excursions – Beautiful culture, scenery, hot springs, condor birds. 2 day 1 night tours start at $50 with longer tours and treks available
Cotahuasi Canyon – Deepest in the world and arguably more spectacular (part of Colca Valley tour)
Walking tour of Historical Centre – UNESCO world heritage site – FREE with Peru Hop passes
Monasterio de Santa Catalina de Siena – fascinating colonial building – $7.50
Visit one of the many Museums in Arequipa: Approx $5 each – Museo de Arte Virreinal Santa Teresa (Virreinal Art Museum), Museo Arqueológico de la Universidad Católica de Santa María (Archaeological Museum of the Santa Maria Catholic University), Archaeological Museum of the National University of San Agustín, Santury Museum – the icy Inca mummies, the Ampato Girl, Municipal City Museum.
Try the local cuisine at any of the Picanterias around Arequipa –  starting from $4
Useful Tips:
In general taxis are cheap, ask at reception in your hostel how much a fare should be and haggle with the driver before you get in.
Carry small change – many taxis/small shops don't have change, so try to use small notes/coins.
Be careful using ATM machines and avoid using them at night were possible.
Try to avoid bring credit cards, passports, etc out at night –  store in lockers at your hostel
Like everywhere else, be aware that there are pickpockets most places you go and NEVER take your passport anywhere unless it is 100% necessary.
Listen to our guides…they will give you all the tips to make sure your adventure with PeruHop is as fun and safe as possible.