PERU HOP CUSCO OFFICE – If you are looking to buy a ticket in Cusco, visit our sales office located in the historic centre of Cusco.
PERU HOP PRIVATE DEPARTURE TERMINAL – Our terminal opens 1h before departure time only. You cannot buy tickets in our terminal. To buy a ticket please visit our sales office above.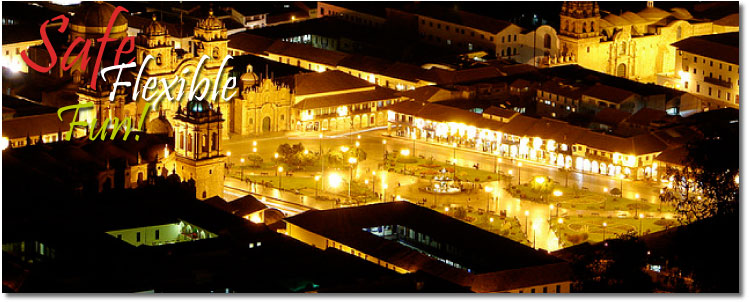 Cusco is located in the south east of Peru. It is famous for being the gateway for Machu Picchu, one of the 7 wonders of the world. Previously the capital of the Incan Empire, it is currently Peru's third largest city behind Arequipa and Lima. It is 10 hrs by bus from Arequipa, 8 hrs from Puno (the gateway to Bolivia) or a 20 hrs from Lima. Cusco is located at 3,400m/11,154ft above sea level with a climate of two seasons, the dry season and the wet season. The dry season (May to September) sees temperatures typically around 22C/72F and the wet season (October – April) is quite warmer with temperatures often topping 30C/86F, so at least when it rains you don't feel so cold!
Cusco is more than just Machu Picchu. Hopsters can take a day tour and explore the Sacred Valley, which is full of Incan culture and ruins. Travel to Ollantaytambo, one of the last Incan towns to fall with ruins worth seeing or see Tipon, where there is some fascinating agricultural terracing and Incan irrigation systems. Go whitewater rafting, canoeing, quad biking, horseback riding in the valley, paragliding or even bungee jumping…Cusco really has it all!
Many tourists allow up to 10 days to experience Cusco, but in reality, it would take much longer to see everything Cusco has to offer. Walking through the city's cobbled streets, there are Incan buildings and colonial-style structures everywhere just waiting to be discovered. Alternatively you could simply just take a walk around the beautiful neighboring area of San Blas or head to one of the miradors for a picturesque view of Cusco. If you have time, Hopsters should take a trip to San Pedro Market to see how day-to-day life is in Cusco. Here you won't find handicrafts or lots of souvenirs, but it is a bustling hive of activity for the local Peruvians. Another area in and around Cusco is Plaza San Francisco which is only a few blocks from the Plaza de Armas (main centre – all hostels located here). Here you will find many nice cafes and a market which sells a mix of items, including clothing and souvenirs.
The nightlife in Cusco is excellent and is known as the craziest place to party in Peru. There are bars, restaurants and clubs all situated within and around Plaza de Armas which is just a walk away from most hostels. Most clubs offer 1 free drink to entice entry so the Hopster on a tight budget can really make use of these on top of our Peru Hop happy hours in our preferred hostel. In addition to the nightly fiestas, Cusco celebrates a number of festivals throughout the year with the some of the biggest ones occurring in June, July and around New Year's. Make sure you keep an eye on our festival calendar here!
Machu Picchu
Hopsters use Cusco as their base to begin the trek to "La Ciudad Perdida de los Incas", which translates to The Lost City of the Incas – more famously known as Machu Picchu. The most popular (and expensive) way to see Machu Picchu is to trek the Original Inca Trek. However, it is important to note that the Peruvian government have placed a  daily quota on the number of people that can go on this trek so often these passes sell out months in advance. It is also important to note that the trail is closed for a period between January and March each year. Acclimatisation to altitude and a generally good level of fitness is advised before undertaking this trek as it can be quite a tough trek to complete.
Alternatively there are a number of agencies around Cusco offering an "Inca Jungle Trek" which is available all year round. This is generally a 3 or 4 day trek which includes whitewater rafting, biking, and even zip lining. The trek includes accommodation in basic hostels rather than outdoor camping, which can make a huge difference after a long day of trekking. In addition, the jungle trek gets you to Machu Picchu at sunrise when it is not so full, making for perfect photo opportunities. The price of the jungle trek is less than half of the original trek, so it is an excellent value for the money. Our guides can assist you with booking this trek since there are many agencies offering this trek which vary in terms of quality and safety.
For those not into the great outdoors or just darn lazy, there is an option to take the train from Cusco to Machu Picchu. We strongly recommend doing a trek though, it makes Machu Picchu much more worthwhile because it will feel like a reward for all your hard work.
Must Do/See:
Visit Machu Picchu – We highly recommened the Inca Jungle Trek for value
Walking tour of Plaza de Armas, Plaza de San Fransisco, San blas and San Pedro Market – Free
Visit some of Cusco's many museums – Free
Take a day trip to the Sacred Valley and explore the rest of the Inca ruins and Inca culture in the area – $25
Take advantage of the wide range of activities Cusco offers. Bungee jumping (122metres), Quad biking, whitewater rafting and mountain biking tours are all highly recommended
Useful Tips:
If you are planning on doing the Original Inca Trail, book early – up to 6 months in advance for busy periods
Choose your trekking agency carefully. Shop around and ask lots of questions. Contact Peru Hop for any advice on booking tours or talk to the guide on board
Cusco is 3,400m/11,154ft above sea level so altitude sickness may occur. Make sure you keep hydrated and well-nourished. Acclimatize yourself by visiting other places in increasing altitude or spend sometime before undertaking any trips. You can get altitude sickness (soroche) pills from the local pharmacies. Also, try chewing on the local coca leaves or drink coca tea to help with altitude sickness.
Pack for all types of weather…in Cusco it is normal to have rain and sunshine – even at the same time!
In general, taxis are cheap – ask at reception in your hostel how much a fare should be and haggle with the driver before you get in
Carry small change – many taxis/small shops don't have change, so try to use small notes/coins
Be careful using ATM machines and avoid using them at night when possible
Try to avoid bringing credit cards/passports out at night –  store in lockers at your hostel
Like everywhere else, be aware that there are pickpockets in most places you go and NEVER take your passport anywhere unless it is 100% necessary
Listen to our guides…they will give you all the tips to ensure your adventure with Peru Hop is as fun and safe as possible
Our guides can facilitate or recommend the best tours to suit your requirements – simply chat to them on board or drop us an email with any questions/queries you may have.