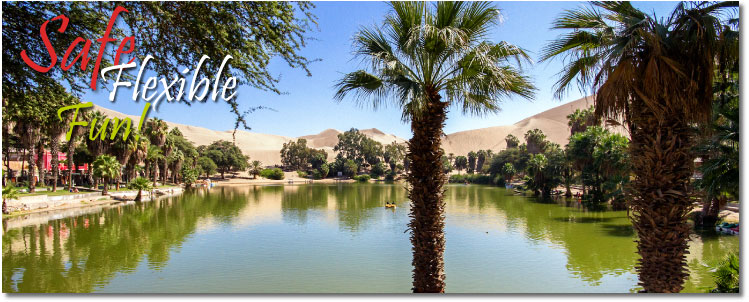 Huacachina is a small desert oasis in Ica, Peru. It is about 4 hours south of Lima and is known as the ¨Oasis of the Americas¨. The tiny village is built around a small natural lake surrounded by incredibly large sand dunes. This is a magical place where you will find it hard to leave. The lake and its location boggles the mind and really is something that has to be seen to be believed. There is a story regarding the formation of the lake involving a princess, a mirror and a mermaid, but we will leave this for our guides to fill you in upon your arrival!
This tiny village is home to less than 1,000 locals, but every day a fresh influx of backpackers arrive to do one of THE must-do activities in Peru…sandboarding down the famous Huacachina dunes! The local guides take you on a tour of these dunes on incredibly powerful (and safe!) dune buggies, flying over large humps in what seems to be a never ending desert of sand. This in itself is awesome, but it gets even better as tourists have the option to sandboard down some of these huge dunes! Don't worry after this exciting excursion you will often end up with a face full of sand, but its nothing a quick shower won't fix! Snowboarding is world famous, but sandboarding is harder, faster and much much cheaper…an absolute must-do for anybody who visits Huacachina.
In addition to Huacachina, Ica is also famous for its Pisco and wine vineyards. Pisco is the national drink of Peru, and Ica is often called the home of Pisco. We take you on a Pisco vineyard tour where you will discover the history of Pisco, see how it is made, as well as getting to try a few samples of this deliciously refreshing drink. Peruvians are very proud of their Pisco and you simply cannot come to Ica without having a few glasses of Pisco!
Overall, Huacachina is definitely the recommended place to stay in Ica and may even become your favourite destination in the world…it is simply that beautiful!
Things to Do:
Sanboarding and Dune buggying in Hucachina – MUST DO – $15 or FREE with our all inclusive Peru Hop passes
Pisco vineyard tour – FREE with all our Peru Hop passes
Walk around the city of Ica – FREE
Useful Tips:
Huacachina is very small, try to bring cash with you as there are not many ATMs, although our bus will stop in Ica for this
Visit the dunes in the late evening so you can see the sunset – truly incredible
Bring sunscreen, it is almost always sunny and hot (lots of time to lie by the pool!)
Beware of pickpocketers and never carry your passport/credit card unless it is 100% necessary
Avoid using ATM machines at night