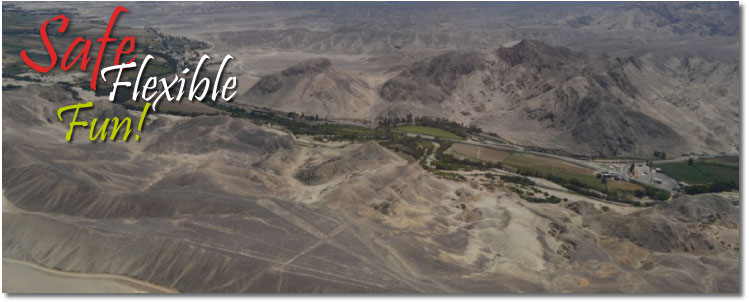 Nazca is located 2 hours south of Ica (6 hours from Lima) and is famous for being home to the mysterious Nazca Lines. It takes its name from the Nazca culture that settled here in late BC and early AD. It is believed that these lines were some form of religious worship associated with the availability of water for crop growth (Nazca is one of the driest places in the world). Whatever their reason was, these lines continue to fascinate and wonder both historians and tourists alike, and it officially became a UNESCO World Heritage site in 1994. The lines vary in size from 30 metres to 200 metres (98 – 656 ft) and often take on the form of animals such as monkeys, lizards and sharks amongst others. Check out our photo gallery to see some of these incredible images.
Nazca itself isn't exactly the most beautiful place on earth and so tourists generally use it as a stop off point in order to see the Nazca lines. We recommend you stay in Ica (Huacachina) and do a day trip to go to see the lines, although, we are happy to cater for anybody who wants to spend a night or 2 here.
The lines are best viewed from above, and there are many tour companies offering flights over the lines (the lines stretch for about 80 km). These tours last up to 30 minutes long and will cost approximately $110, but you will get some wonderful pictures and the best view of the lines as possible. Alternatively, there is a viewing tower that helps you see some of these lines from an elevated point; however, while this is very cheap ($1), it's restrictive and won't offer as good of views as the flight would.
Things to Do/See:
Nazca Lines – viewing tower or flight – Free with Peru Hop passes or $90 flight
Walk around the town – Free
Useful Tips:
Beware of some some unsafe tour companies, accidents have happened on some of these flights so please do your research and listen to the advice of your guide
Beware of pickpockets and never carry your passport/credit card unless it is 100% necessary
Avoid using ATM machines at night
If staying overnight, discuss with guide as to what hostels they recommend