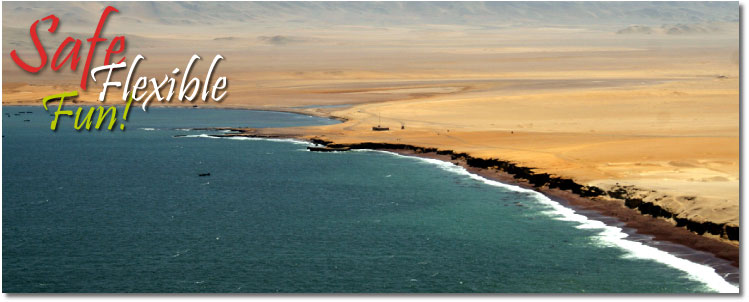 Paracas is a beach resort in Peru, famous for the Paracas National Reserve and Ballestas Islands. It is located about 3hrs south of Lima and has sunshine all year-round, which means it is popular amongst Peruvians as well as tourists. Over the last couple of years many new hotel complexes have opened up to accommodate all of its visitors. The town may be expanding, but it has not affected the stunning local beauty, if anything, it has only been enhanced.
The Paracas National Reserve is one of the main attractions here in Paracas. It is the oldest marine reserve in Peru and consists of almost 335,000 hectares of area, with its main purpose to preserve the marine life ecosystem. You will find many different species of birds here, most sitting on the shore's edge, basking in the sunshine that reflects off the water. This offers excellent photo opportunities as the desert lands and endless ocean waters provide some great scenery to capture.
In addition, Paracas is home to the Ballestas Islands, a collection of rocks sitting in the Pacific Ocean, which boast more wildlife than any other place in South America – apart from the Galapagos Islands in Ecuador. Actually, these islands are often referred to as the ¨poor man's Galapagos¨…in other words, you get to see a lot of animals in their natural habitat at just a fraction of the cost! Here one can find approximately half a million birds (pelicans, flamingos, condours), thousands of sea lions and many many penguins all living peacefully on this island oasis. Tours to the islands are by speedboat and sometimes there are dolphins swimming close to the boat, which can be an incredible sight.
Paracas town itself is small and peaceful; however, it is growing quickly as word spreads about the spectacular Ballestas Islands. The combination of Paracas' climate and location – sunshine all year-round and a short distance from Lima – makes it for a perfect getaway. Relax by the pool, sip a Pisco sour or eat some delicious Ceviche…here in Paracas, life really is good!
Things to Do/See:
Paracas National Reserve Tour – FREE with all Peru Hop passes
Ballestas Islands (Islas de Ballestas) Tour – $20 with Peru Hop or FREE with all inclusive passes.
Walk around the town and pier front and take in the Paracas air
Sample local Peruvian Chocotejas – Typical Peruvian chocolates
Useful Tips:
Paracas is small therefore taxis can be avoided, although moto taxis are available for the lazy Hopsters out there!
Visit Ballestas Islands early in the morning…animals are more active at this point
Never carry your passport/credit card unless it is 100% necessary
Avoid using ATM machines at night
Bring Soles – Banks are at a premium and not many ATM's are available in the town
Bring sun cream and a hat – We don't want Hopsters looking like Lobsters!
Listen to our Peru Hop guides as they will give you all the tips and tricks you need to maxmise your stay in Paracas