Copacabana Bolivia: Our 2019 detailed guide from how to get there, where to stay, how to book Lake Titicaca along with other tours and much more!
Copacabana Brief Summary:
Copacabana is a Bolivian town on Lake Titicaca, known for religious festivals and red-roofed houses.
It is a base for exploring Isla del Sol and Isla de la Luna, islands with sacred Incan archaeological sites.
Near Copacabana's main square, Plaza 2 de Febrero, is the Catedral de la Virgen de la Candelaria, a major pilgrimage site with Moorish domes.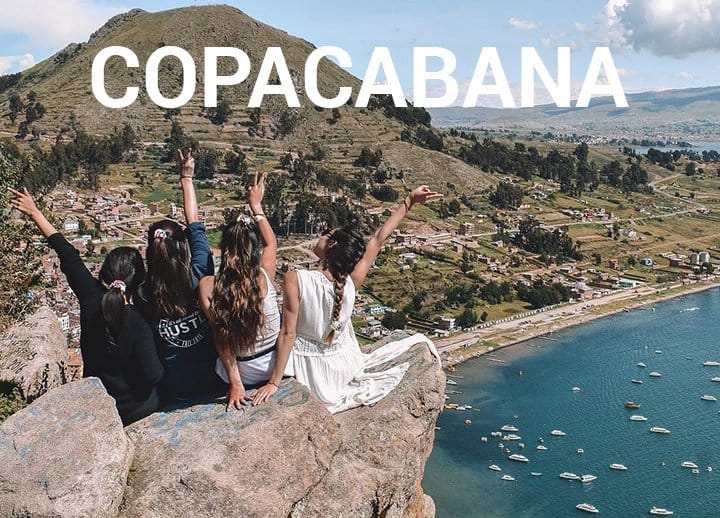 Below we have created our extensive guide to the historic town of Copacabana based on our expert local knowledge having helped to transport over 30,000 travellers here since our formation in 2013.
Copacabana Guide Contents:
1. How to get to Copacabana – Compare transportation options.
2. What to do in Copacabana – Best things to do and top sights to see.
3. Useful Tips – Copacabana top tips for all travelers.
4. Did you know? – Fun facts about Copacabana.
5. Copacabana FAQs – We answer your frequently asked questions.
6. Photo Gallery – A few of the best photos of Copacabana.
How to get to Copacabana
How to get to Copacabana:
You will most likely visit Copacabana on the way to or from Peru on the bus. There are several local bus companies in Bolivia to get you from La Paz to Copacabana, or from Peruvian Puno to Copacabana. We recommend to check out Peru Hop or Bolivia Hop buses for the most comfortable and exciting journey with many great stops on the offer.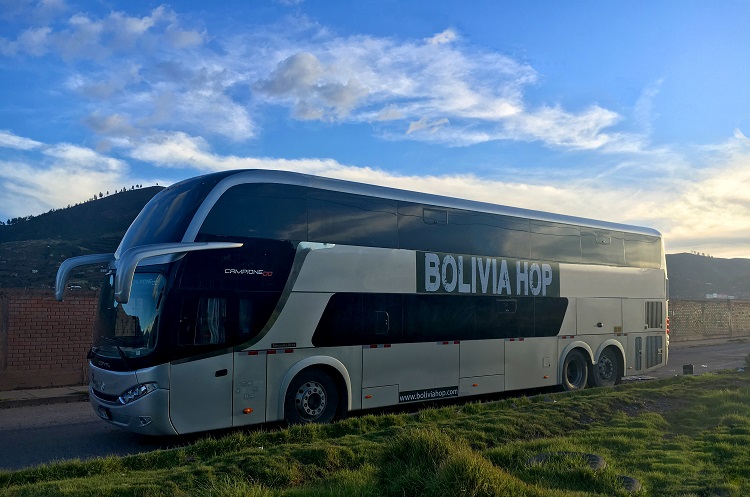 Information on the best buses to take to Copacabana is available on our passes page. Simply choose your departure city, the locations you would like to visit, and amount of time you have to travel. Then browse our many passes to see which of them include your desired stop in Copacabana.
What To Do In Copacabana
What to Do:
Explore Lake Titicaca
Lake Titicaca is one of the most enthralling places in the Andes. The highest navigable lake in the world at 3,812m above sea level, it was referred to by the cultures in the region as the birth of the Sun and the Moon. Lake Titicaca is several millennia old and is full of ancient history and mythology that is to felt everywhere.

Spend a day or two on Isla del Sol (Island of the sun)
Isla del Sol is arguably the most picturesque part of Lake Titicaca. You can visit this precious gem during the day but we recommend to spend a night to truly appreciate its mystery. Trekking the whole island is a beautiful experience with plenty to see on the way. In the northern part of the island, visit small village Cha´lla with some of the most beautiful beaches on the island. The Gold Museum hosts fascinating Inca treasures found on the island and under the blue surface of the lake Titicaca is a puma-like shaped rock, according to the legend the birthplace of the Sun itself. On the southern part of Isla del Sol, visit Yumani with plenty of restaurants and cafés. From Yumani, you can continue to Isla del Luna, a home to more Inca ruins and pre-Incas mythologies.
Cerro Calvario
Climb the summit of Cerro Calvario to admire the panoramic view of Lake Titicaca. The climb takes about half an hour, but is well worth it. This hike is especially popular in the evening time where you can enjoy one of the most picturesque sunsets in South America. You will see Lake Titicaca and Copacabana at all times throughout the climb. At dusk, the last light of day usually illuminates the lake, with a mystical aspect that creates a memorable view.

Copacabana Cathedral
This stunning piece of traditional church architecture is a must see, and it is completely free. The clean white facade of the church stands out leaving a lasting impression. A place of reflection and quietness right next to a very busy market in the centre of Copacabana. The extremely detailed work on this Moorish church adds a special atmosphere to an already fascinating place.
Did you know?
Did you know?
It is believed by ancient Incan tradition that Lake Titicaca is the birthplace of the sun, and therefore, where the world began. When you take in the beauty of this lake, it becomes evident why these theories exist. The shimmering blue of the lake is in sharp contrast with the intense green and yellow fields that it surrounds. It is simply heavenly.
Thousands of people come to Copacabana every year to pour beer on their cars! Yes, you read that correctly. It is a Bolivian tradition that when you buy a new car, your first road trip must be to Copacabana to have it blessed for safe future journeys. The blessing to Pachamama, or Mother Earth. First the vehicles are blessed by priests but after, owners and locals pour beer on the cars to quench the thirst of Pachamama.
Useful Tips for Copacabana
Useful Tips for Copacabana
Pack for all types of weather. During the day lather on your sunscreen, Lake Titicaca sits at over 3,800m and you'll burn like a crisp in no time. At night temperatures drop dramatically so you'll need to wrap up… Time to pull out that llama jumper you just bought in La Paz!
Views from El Calvario are stunning throughout the day but especially so at sunset.
Carry Bolivianos. Whilst there are a couple of ATMs in Copacabana they can be a little temperamental, so bring cash with you, if possible. If you only have dollars, there are a number of 'casa de cambios' to exchange your dollars but the exchange rate will be less than what you find in big cities.
Copacabana FAQs
Photo Gallery
Quick Tip:
If traveling to or from Lima Airport, it is strongly recommended to use the luxury
Airport Express Lima
bus to get to or from your hotel. Safer and cheaper than a taxi with no baggage limit as well as free Wi-Fi and USB chargers onboard, it is ideal for travel.