Puno To La Paz By Bus With Bolivia Hop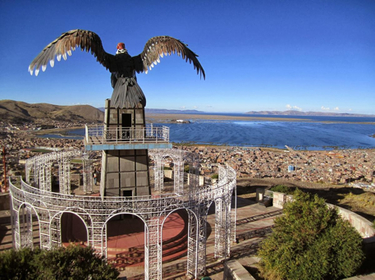 Adjacent to Lake Titicaca, the highest navigable lake in the world, is the city of Puno, one of Peru's most interesting cities. Often overlooked for more famous destinations like Lima and Cusco, Puno actually has many charms of its own. Visitors can see beautiful and unique cultural attractions such as the Uros Islands (a series of floating man-made islands inhabited by the indigenous Uru people) or Sillustani (an incredible pre-Inca cemetery abutting the lake). Like elsewhere in Peru, the local food is unique, inexpensive, and delicious. There are also great traditional cultural festivals throughout the year, most famously the Festival of the Virgin of Candelaria in February.
Quick Tip:
If travelling to or from Lima Airport, it is strongly recommended to use the luxury
Airport Express Lima
bus to get to or from your hotel. Safer and cheaper than a taxi with no baggage limit as well as free Wi-Fi and USB chargers onboard, it is ideal for travellers.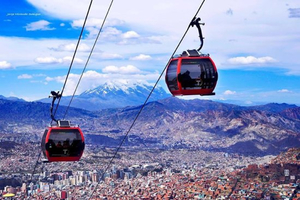 Across the border about 6 hours away is the city of La Paz, the largest and most important city of Bolivia. There are many things to do in La Paz: you can check out Killi Killi and other gorgeous vista points throughout the city, attend a "Fighting Cholitas" wrestling match, visit the Valley of the Moon, along with many other attractions (for more ideas for what to do in La Paz, check out our blog about it or check out some guided tours). La Paz is also the best place to depart for activities further afield in Bolivia, such as the "Death Road," the Uyuni salt flats, or trips to the Bolivian jungle.
Quick Tip:
Experience the thrill of biking the
Bolivia Death Road
, one of the most dangerous roads in the world! Enjoy amazing scenery as you descend from high-altitude mountains to jungle landscapes.
Both Puno and La Paz are interesting places to visit either on their on or as part of a longer trip through South America. It is possible to fly between the two cities, but the much more common form of travel in South America is by bus. However, many people who visit Peru and Bolivia are concerned about how they can safely and comfortably travel from one city to another by bus. Crossing an international border can also add to these questions and concerns. With dozens of independent bus companies operating within these two countries, it can certainly be a bit confusing trying to sift through all the different options and find which one will work best for you.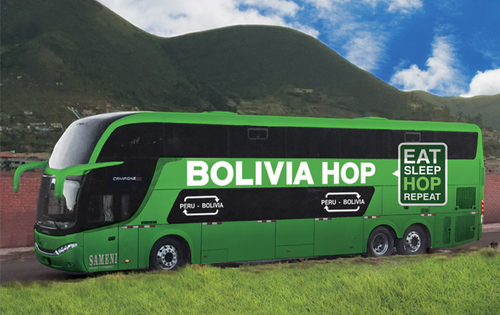 Maybe we're a little biased, but in our opinion the best way to travel through this region is by booking tickets with Bolivia Hop. This service takes the hop on hop off bus concept that is popular in cities throughout the world and applies it to the most frequently-visited and interesting spots in Peru and Bolivia. Our buses provide a level of convenience not available with other traditional bus services. Your itinerary is completely flexible: buses pick you up directly from your hostel, and you can "hop on" or "hop off" at any point, stay as long as you want, and then continue your journey whenever you're ready. Each bus is staffed with a guide bilingual in Spanish and English who is available to answer questions as well as provide assistance with border crossing issues. There are many ticket options available to take you from Puno to La Paz (with an optional stop in nearby Copacabana on the Bolivian side of Lake Titicaca) or extended trips which end in Cusco or Lima. The ticket pricing is reasonably affordable, so don't hesitate to book a ticket as it is truly the most comfortable option for traveling this part of the world. ¡Buen viaje!
To book a tour in Bolivia we recommend you use
FindLocalTrips.com
a search and comparison website for tours across all of South America.