Atravessar a fronteira entre dois países estrangeiros pode ser algo assustador e às vezes é. Assim, é fácil entrar em problemas, atrasos e muita confusão quando estiver atravessando a fronteira, especialmente quando você não está bem preparado. Saber onde atravessar e quais documentos levar, é essencial.

Dica quente: Bolivia Hop - A empresa mais usada pelos brasileiros para viajar pelo norte da Bolívia e sul do Peru. Veja AQUI mais informação de como funciona a empresa.
Como funciona
Os pontos de inspeção são um pouco distantes da fronteira. Se você estiver viajando da Bolivia para o Peru, você chegará no ponto de inspeção boliviana com o ônibus. Lá, você descerá em grupo, espera na fila internacional e recebe um carimbo de SAÍDA. Em seguida, você atravessará a fronteira e chegará ao ponto de inspeção peruana e receberá um carimbo de ENTRADA.
Saiba onde atravessar
Uma das melhores maneiras para evitar quaisquer problemas é conhecer os melhores pontos para atravessar a fronteira. Tem duas passagens terrestres, uma em Copacabana e uma em Desaguadero. Se você quiser evitar grandes filas e problemas a melhor opção é Copacabana. Desaguadero é uma rota mais direta para La Paz, também é mais movimentado do que atravessar em Copacabana.
Documentos e papéis
É muito importante que você tenha todos os documentos necessários preparados antes de chegar na fronteira. Pode ser bem estressante se você não tiver seus documentos organizados.
Estadia no país
Certifique-se de não passar seu tempo de estadia no país, porque é um processo longo e demorado. Você deverá pagar 1 dólar americano por dia que ficou no país acima do limite. Isso pode acarretar em outros problemas, e alguns oficiais da fronteira podem pedir suborno. Isso é uma coisa que você deve evitar se você não quiser ter problemas na fronteira. Normalmente você pode ficar por 90 dias. Se eles derem menos, peça por 90.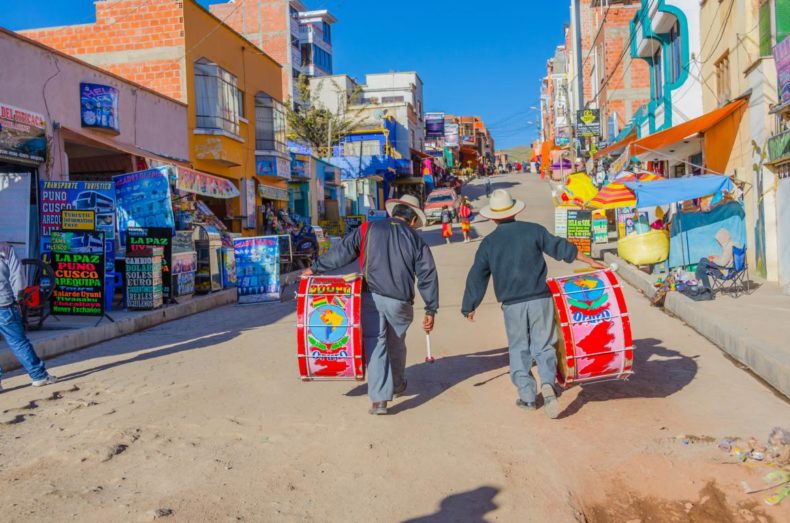 Não sabe para onde viajar nas suas férias? Bolívia foi o destino mais viajado pelos brasileiros nos últimos anos. Veja agora todos nossos PACOTES disponíveis.
Documentos básicos
Passaporte válido por 6 meses ou documento de identidade
Cartão de imigração válido (você recebe na entrada do país)
Certifique-se de ter esses documentos ANTES de subir no ônibus.
Alguns países também precisam solicitar visto para entrar na Bolívia. Isso pode ser feito na Embaixada da Bolívia e dependendo de onde você é, pode ser feito na fronteira. Veja quais os requisitos necessários para você.
Documentos necessários para o visto boliviano
Foto tamanho 4cm*4cm
Duas fotocópias da página de informação do seu passaporte
Itinerário impresso e detalhado da sua estadia na Bolívia
Passagem de saída da Bolívia
Extrato bancário impresso ou fotocópia do cartão de crédito
Confirmação de reserva no hotel/hostel impressa da primeira noite na Bolívia
Alguns desses documentos não podem ser solicitados na fronteira dependendo de onde você é e quem está atendendo você, mas faça algumas pesquisas antes de atravessar a fronteira para encontrar o que você precisa e levar o necessário.
Quick Tip:
Experience the thrill of biking the
Bolivia Death Road
, one of the most dangerous roads in the world! Enjoy amazing scenery as you descend from high-altitude mountains to jungle landscapes.
Algumas dicas extras
Troque bolivianos/soles na fronteira apenas para ter algumas moedas.
Não leve animais, frutas ou vegetais para atravessar a fronteira. Eles podem te dar problema.
Não leve drogas no ônibus. Parece óbvio, mas nós sempre enfatizamos…
Tenha cuidado extra pela fronteira.
Tenha em mente que as informações acima podem mudar em qualquer momento.
Enfim, atravessar a fronteira entre a Bolívia e Peru pode ser um processo tranquilo. Por mais tempo que você fizer pesquisa, organizar seus documentos e ter paciência, estará tudo bem!