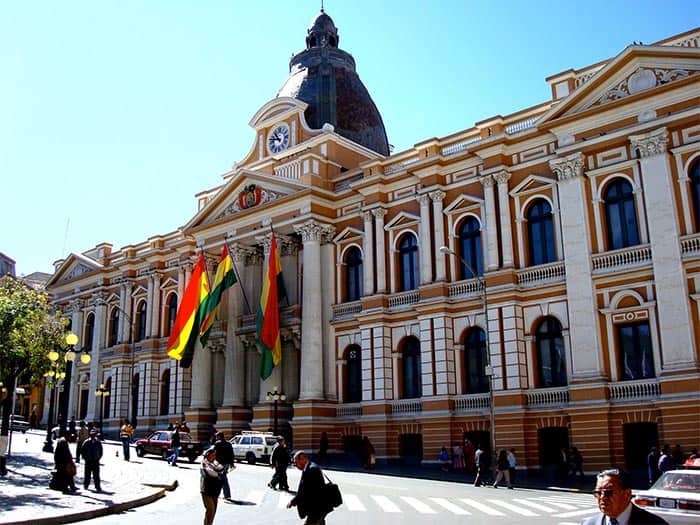 This guide to Bolivia, written by an experienced backpacker, attempts to really capture what this incredible country has to offer to all of you potential fellow explorers! Economically, Bolivia may be the poorest country within South America; but it is arguably the richest in terms of culture, history, and geographic and biological diversity. To this day, the vast majority of its population stick by their indigenous roots, providing us an incredible insight into the ancient ways of the remarkable Andean people.
Scenery
Except for Bolivia's obvious lack of coastline, it is a country that geographically has it all. Within hours you can pass through dramatic snow-capped Andean peaks to a tropical jungle. Bolivia is of course home to the now infamous 'Salar de Uyuni', the largest salt lake in the world. 3 to 4 days in a jeep alone is required just to do justice to the surrounding altiplano…geysers, hot springs, crystalline lakes of unbelievable colours, all overlooked by dominating volcanic peaks…a photographers playground. Venture a little further south and get lost in true cowboy country around Tupiza, the final hideout and resting place of the American train and bank robbers, Butch Cassidy and the Sundance Kid no less. If you need a little relaxation, then relinquish yourself to a touch of Argentine corruption in the southern wine lands of Taraji.
For all the nature lovers out there, the Bolivian Amazon is a veritable hotspot of biodiversity providing some of the best jungle and wetland (pampas) opportunities on the continent at the cheapest prices. Swim with pink river dolphins, take snaps of fearsome alligators and try your luck at piranha fishing all along the same stretch of river!
Not to mention Lake Titicaca, which sits on the border with Peru, is the largest lake in South America (by volume) and the highest navigable lake in the world. You'll  soon agree that Bolivia has it all, you'll just need to leave to search out a beach to recover….
History and Culture
Bolivia is a country steeped in history and culture. Of all the South American countries it is undoubtedly the one that has been least affected by modern influence. When you are in Bolivia, culture and tradition surround you. Bolivia has, by far, the greatest present day indigenous population and in 2009 was registered as having an incredible 37 official languages! Each region of Bolivia has its own intriguing past including the area surrounding Lake Titicaca, the mythical birthplace of the first Incas Manco Capac and Mama Ocllo, a modern day story of Adam and Eve, who rose from the lake around Isla del Sol.
The people of Bolivia carry with them the ancient traditions of the past, much as the Incas did of those civilizations before them – all revolving around a central respect of nature and mother earth, Pachamama. The simple coca leaf for instance, frowned upon by other nations, has an integral use in Andean culture and life. It is a staple in such offerings to bring good fortune, good crops, and good health. It is also a vital element in preventing fatigue and hunger which goes along with the arduous manual jobs that the majority of Bolivia continue to endure, notably in the mines of Potosi and Oruro.
Bolivia has been a victim over the years of its own fortune. 'Cerro rico' (rich mountain) in Potosi was the largest silver mine in the history. As a result of the Spanish Conquest of the Americas,  Bolivia suffered lengthy suppression from this. Whilst Bolivia was the first country to let out the revolutionary cry for independence, they were one of the last to actually achieve it in 1825. The scars of history can be seen in the places you visit and the faces you see. Thankfully Bolivia appears to be coming into a new era, one of change and optimism, under the wing of current president, Evo Morales. Never before has the country's proud saying 'Todo es posible, nada es seguro' (Everything is possible, nothing is certain) been more apt…
For more information check out the following
Tips and Advice – Information regarding money, taxis, hostels.
City by City Guide – Detailed information and photos of each city in Bolivia.