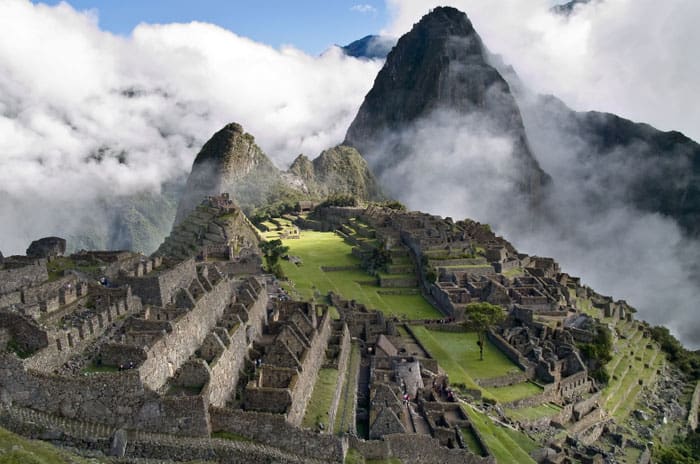 There are many ways to trek Machu Picchu and one of the most exciting treks is the Machu Picchu Jungle Trek. The trek is often quite popular amongst backpackers due to its cheap price as well as the fact that it combines trekking with many other fun activities. Below we give you guys an idea of a day by day itinerary of what the Jungle Trek entails. The itinerary is provided by Yapa Explorers, contact them if you want to get further information regarding Machu Picchu tours!
Quick Tip:
If travelling to or from Lima Airport, it is strongly recommended to use the luxury
Airport Express Lima
bus to get to or from your hotel. Safer and cheaper than a taxi with no baggage limit as well as free Wi-Fi and USB chargers onboard, it is ideal for travellers.
Day 1:
The trek begins with a comfortable bus journey to the town on Ollyantaytambo where you stop to take in some of the sights. After this, the bus then climbs up to the top of Malaga mountain, where you reach a height of approximately 4,300 metres, and this is where the fun begins! The say what goes up must come down, and what better way to come down the mountain than on safe downhill mountain bikes! You will descend rapidly through the curvy roads whilst at the same time stopping to admire the stunning surrounding scenery. The tour will make many stops along the way at local villages before finally reaching the bottom of the mountain after approximately 3 hours of adrenalin pumping mountain biking! Be warned that everybody always promises themselves that they won't go fast, but it is never actually true!
After burning all those calories on the mountain, a well deserved lunch follows in the town of Santa Maria, and tasty food is always included as part of all Jungle Treks on offer in Cusco. From Santa Maria, the trek makes its way to the overnight stop of Pispatayoc, however this is where you have a choice to make…either have a small trek to the eco lodge or go white water rafting town to the lodge! Rafting normally costs $30 extra but is well worth the price and is suitable for everybody, even those who don´t know how to swim! Whatever mode of transport taken, you will eventually arrive at your Eco lodge where you will spend the night surrounded by natural beauty.
Day 2:
Day 2 is the hardest yet most worthwhile day….this is when the real trekking begins after all the fun on day 1! It is an early start to the day where you will get to trek on parts of the original Inca Trek and see follow the paths they created hundreds of years ago. Your guide will stop at many places along the way to teach all about the Inca's and help you understand the purposes of the Inca trails and how smart the Inca's where to create such trails so long ago. You will also pass through coffee plantations, flora and fauna, as well as many different types of fruit trees. Don't forget that you are in the Inca Jungle so you will encounter many different birds and even some monkeys on a good day! The highlight of the morning is arriving to the top of the mountains where you will have simply incredible views of the valley of Urubamba.
After lunch, you will continue trekking and come down the other side of the mountains, crossing many rivers and farms along the way. It is a long tough day but there is a reward at the end when you reach the town of Santa Teresa and get to visit the incredible natural hot springs. Their are 4 different pools, ranging from hot, hotter, hottest and freezing cold! The local people recommend to soak between the hottest and coldest to ensure your legs are not to sore in the morning! After the springs, you are taken to your rural lodge and out for dinner, where you are likely to meet other tourists partaking in similar treks and join them for a bit of a sing and dance!
For information on booking a tour, comparing operators and reviewing prices we recommend to use
FindLocalTrips.com
a comparison website for tours and activities across South America.
Day 3:
There is another early start on Day 3 but this day begins with a choice. People can either choose a 3 hour hike, or zip line across canyons for an extra $30. For those on a budget the trek may suit better, but the zip lines are something to behold and walking across a canyon on a tightrope is scary no matter who you are!
Whether you trek or take the lines, everybody then meets again at Hydroelectric where, after lunch, you continue to walk the great Inca paths, even getting to walk along the famous railway lines. Be careful as these lines are still in use today so if you hear a train coming then run!!
After about 3 hours trekking and a delicious lunch, you will finally make your way to Aguas Calientes , the home of Machu Picchu. You will arrive at 4 pm having completed your Inca Jungle Trek but with still the jewel in the crown waiting for your arrival… Machu Picchu! The huge mountain towers over Aguas Calientes and this beautiful small town sets the scene for your early morning climb on Day 4 where you will finally get to see the reward for all your hard work over the last 3 days!
Quick Tip:
Experience the thrill of biking the
Bolivia Death Road
, one of the most dangerous roads in the world! Enjoy amazing scenery as you descend from high-altitude mountains to jungle landscapes.
Day 4:
It is in early start (optional but highly recommended) if you follow the guides instructions to start the walk to the top of Machu Picchu at 4 am. This is so you are there for the opening at 6 am meaning that Machu Picchu will not be full of tourists and meaning you get to see the beautiful sunrise over this incredible wonder of the world! The guide takes you for about 2 hours around the ruin, explaining everything about Machu Picchu and how it was lost for hundreds of years. After this you are free to explore by yourself, or better still, you are free to climb one of the 2 mountains that overlook Machu Picchu…namely Huaynu Picchu and Machu Picchu mountain. Be warned that tickets for these mountains sell out in advance as these mountains are essentially where you will get that postcard picture of Machu Picchu… so they are both very popular amongst tourists.
Whenever you feel you have given Machu Picchu enough time (it may never feel enough!!), you will go back down to Aguas Calientes to eat, buy some souvenirs, and then take the world famous train from Machu Picchu back to Cusco (via a bus transfer).
4 days and 3 nights, countless history, ruins, breathtaking screnery as well as adrenalin pumpng activities, the Machu Picchu Inca Jungle trek represents incredible value for anybody wanting to discover Machu Picchu in a fun and exciting way without breaking the bank.
To book a tour in Bolivia we recommend you use
FindLocalTrips.com
a search and comparison website for tours across all of South America.