Bolivia is still a somewhat overlooked country on the well-trodden backpacker routes through South America. While most travelers will take the time to visit the more famous sites such as Lake Titicaca and Salar de Uyuni, this country at the heart of South America has much more to offer than what the typical packaged tours and guidebooks would suggest. Bolivia's natural splendor, diverse topography and interesting culture should make it a priority for anyone who wants to truly explore South America. The country's relative remoteness means that unspoiled beauty is often easier to find than in some of the more famous touristic hotspots in neighboring countries.
Did you know? Bolivia Hop was setup by 2 Irish guys in 2014 and was voted the #1 way to travel around Bolivia in 2023! Click here for more info.
One great example of this is the Sajama National Park on Bolivia's western border with Chile. Despite being just a few hours from La Paz by bus or car, Sajama is home to sweeping scenes of volcanoes, otherworldly rock formations, natural hot springs and mysterious ancient ruins. These gorgeous landscapes along with the region's rich culture make Sajama an ideal place to stop and get to know the true soul of Bolivia.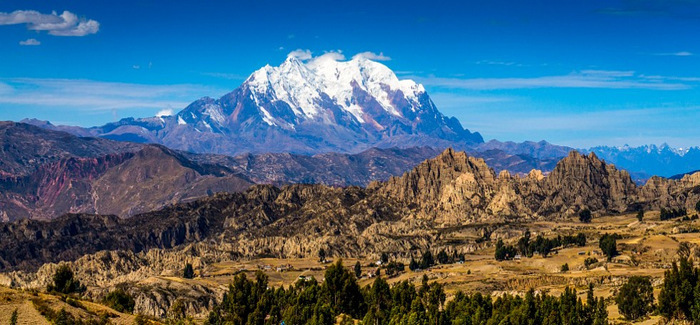 About the Park
Sajama is Bolivia's oldest national park, created in 1939 in an effort to preserve the hillside forests of Queñoa trees growing in the region which, at the time, had been ravaged by over-harvesting in order to supply charcoal for mining sites. The park takes up a total of 1,002 square kilometers of altiplano, or highland plain, with elevations ranging from 4,000 to 6,542 meters . It was added to the UNESCO World Heritage Tentative list in 2003 and remains one of the most beautiful and well-preserved natural areas in the country.
The local culture around the park also remains well-preserved, with traditional customs and religious beliefs still maintained. The main inhabitants of the region are Aymara Indians of Caranga origin, grouped in ayllus (a type of traditional community organized around principles of collective work). Their main occupations are yarn spinning and animal herding. There is not much agriculture in the region due to the harsh climate, though quinoa and potatoes are grown in limited amounts. Visitors will be interested in the traditional circular houses which many Aymara still live in today.
What to See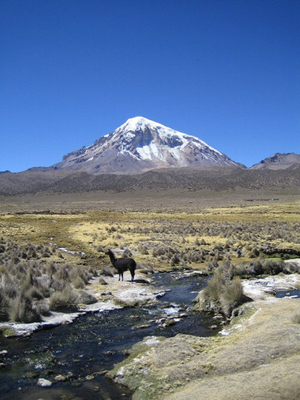 There are an incredible amount of things to do and see at Sajama National park. Of course, the main attraction for the park is its breathtaking natural scenery and wildlife. Its namesake volcano, the stunning snow-capped Nevado Sajama, is the highest point in Bolivia. There are many ways to enjoy this sacred mountain: climb it, hike around it, or just take in the stunning view, as it is visible from anywhere in the park. Outdoorsy types will also love the many scenic hikes around highland lakes, including a route to the beautiful Laguna Huanakota or the 2-day Lagunas de Altura trek which brings you past most noteworthy sites. Many people also visit Sajama specifically to see its many geysers and natural hot springs (some of which have medicinal properties and are possible to bathe in). Encounters with native wildlife are possible nearly everywhere inside the park, and you are sure to have many opportunities for good photographs (see the wildlife section below for a list of animals you are likely to see). Birdwatching enthusiasts should head to the Lauca River where dozens of unique species can be spotted.
Those with an interest in culture and history will also find much worth visiting in Sajama national Park. Near the town of Tomarapi, visitors can find a handful of prehistoric rock paintings dating back millenia. The most interesting cultural attractions of the area, however, come from the Aymara people who have lived there for centuries. These include chullpas, a type of funerary tower containing the mummies of noble families. There are also several ancient Aymara fortifications in the area, known as pucaras. Close to the park (but not technically within its borders), one can also find the Sajama lines, a series of mysterious lines etched into the altiplano. At 16,000 kilometers total length, they are considered by some to be the largest work of art on Earth. For colonial era architecture, make a stop at the lovely scenic village of Curahuara de Carangas, whose church has been called the "Sistine Chapel of the Altiplano" for its beautiful paintings.
Wildlife
Sajama National Park is an absolute dream for lovers of wildlife. Many species that call the park home are unique to the region, having evolved especially to deal with the high altitude climate. These special creatures, such as the vicuña and the alpaca, are very prominent in the mythology and traditions of the region. Listed below are just a few of the majestic animals that you'll encounter at Sajama:
Llama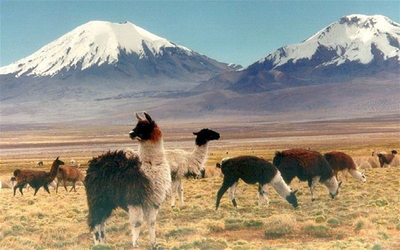 Alpaca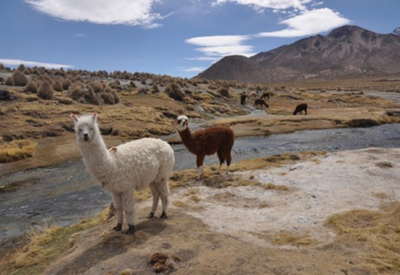 Vicuña

Flamingo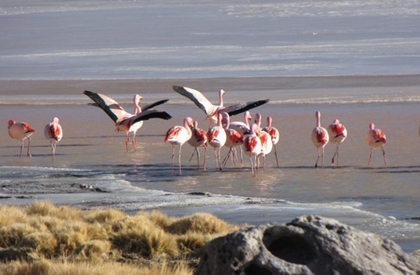 Chinchilla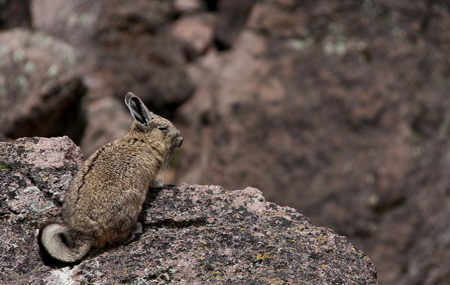 Puma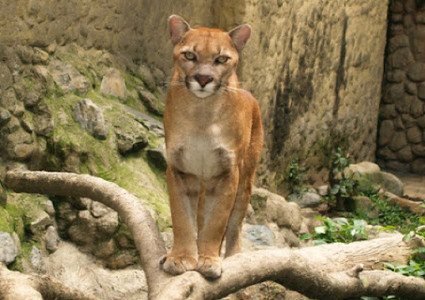 Andean Fox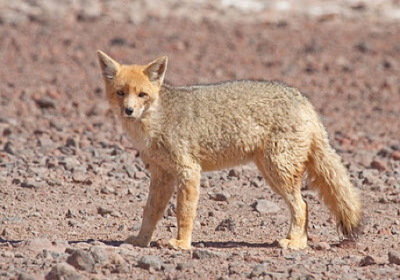 Other wildlife includes viscachas, bears, armadillos, coots, condors, hummingbirds and many more.
How to Visit
Of course, the easiest way to see Sajama National Park is to book an all-inclusive tour from La Paz or nearby towns. There are many tours which make stops at the park, and it's usually possible to find something specifically catering to your preferred activities.
The more adventurous (and cheaper) way to go to Sajama, though, is to head there solo. Many people who want to camp or hike will go on their own without a guide. Even if you do prefer the help of a guide, you'll be able to find many options in the towns nearby or within the borders of the park, so it can be worth it if you want to save some money or you aren't satisfied with the tour options you found in La Paz.
Those traveling by car will have no problem finding the park, which lies along the main highway connecting La Paz with Arica, Chile. Once inside the park, most of the major sights and activities are also accessible by road.
For those who wish to travel by public transit, there are a couple options available. It's possible to catch any of the buses which run between La Paz and Arica; you can simply ask to be let off near the entrance to the park. It should be noted, however, that the actual village of Sajama is 12 kilometers from the main highway (you can arrange transportation from the town of Tambo Quemado on the Chilean border).
The other, more popular route, involves arriving at the park from the town of Patacamaya, located halfway between La Paz and Oruro. There are frequent buses going between La Paz and Oruro, so you need only tell the driver that you wish to exit at Patacamaya. Once you've reached Patacamaya, you can take a shared van (colectivo) to the village of Sajama about 3 hours away.
When to Go
The best time to visit Sajama National Park is during the dry season between April and November. The weather is colder during this time but the roads are less muddy, making it easier to get to all of the area's attractions.
Weather
Temperatures in the park are fairly cold throughout the year due to the high altitude. Night time temps can reach as low as –30 °C during winter. It's best to come well-prepared for these potentially extreme conditions.
What to Bring
What you bring with you will somewhat depend on how you plan to see the park. Obviously, those who plan to camp will need to bring much more than those who are on guided tours or who plan to stay in hostels or lodges. Gear for campers can be simple (only a tent and warm sleeping bag) or complex (gas stove, generator, etc.). It's best to consult with a local guide or expert to determine exactly what you need to bring if you plan to camp.
For those who plan to stay in a hostel or eco-lodge, the following gear should be sufficient for most activities:
Walking shoes and socks
Regular pants
Sweaters and long-sleeved shirts
Trekking boots
Warm winter coat
Light jacket
Sunscreen and sunglasses
Baseball cap or bandana
Warm hat and mittens
Of course, this list is also highly dependent on the activities you plan to do (for instance, you should bring a swimsuit if you plan to go in the hot springs), so make sure to keep this in mind when you're packing.
Final Thoughts
As you can see, Sajama National park is one of Bolivia's greatest natural treasures and well worth a visit on your trip through the country. Its location is the perfect combination of accessible and remote, making it easy to get to but not overrun with other tourists. An ideal way to visit the park is as a stop-off on the way to the famous Salar de Uyuni salt flats. If you're traveling from other points in Bolivia or from Peru, it's super easy to use Peru Hop and Bolivia Hop to get between various attractions. Once you're in La Paz, either book direct transportation to Sajama from there, or follow our easy instructions above. We hope you'll have the chance to see Sajama National Park and everything else that this amazing country has to offer!