Although sometimes underestimated, Bolivia has many breathtaking sights to offer travelers.  You can climb snow-capped mountains, traverse jungles, explore caves, visit sand dunes, view dinosaur footprints, browse through vineyards, go into mines, and much more in this spectacular country. To be able to easily navigate your way through, it is critical to know the different travel possibilities beforehand. Here's our guide to different types of transportation in Bolivia.
Did you know? Bolivia Hop was setup by 2 Irish guys in 2014 and was voted the #1 way to travel around Bolivia in 2023! Click here for more info.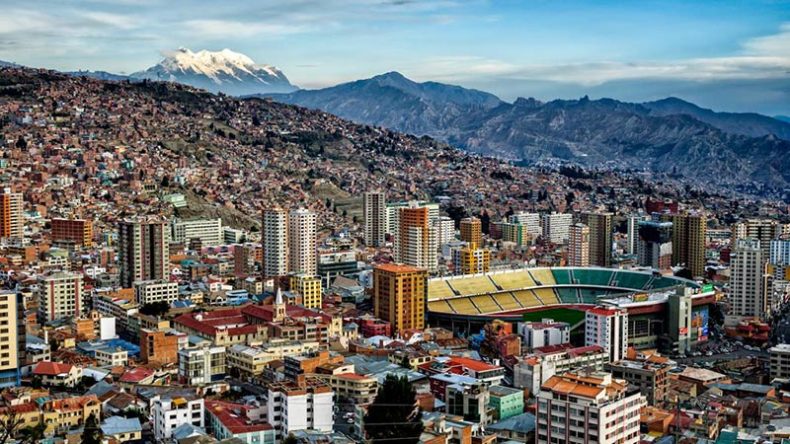 Taxi
The most basic and simple way to get around a city. As always, be cautious and aware when taking a taxi. Ask your hostel/hotel or locals what you should be charged, so you have an idea of the fare in advance. Make sure you confirm the price before getting into the taxi (in Bolivianos). Radio Taxis are the safest option as they are operated by a legal taxi company. These are the taxis that have a number to call posted on the top of the taxi. In some of the bigger cities, you will also be able to find Uber, Easy Taxi, or other ridesharing apps (you will need a local mobile number to use the app).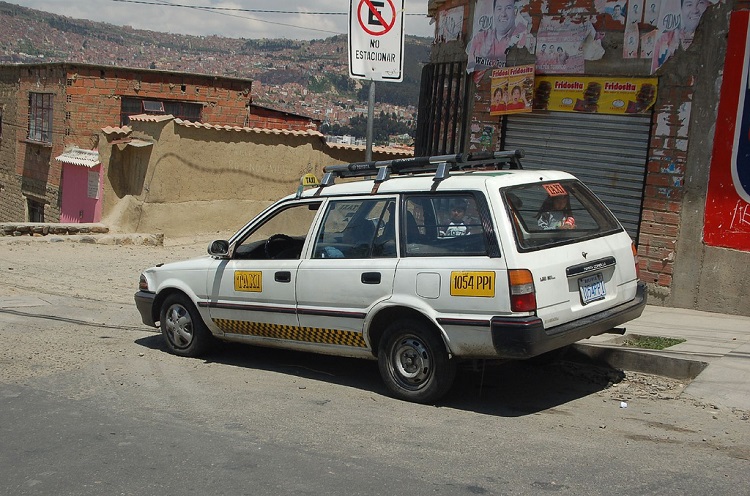 Car
Renting a car is an option, but it is not the most common or easy way to travel. It is typically for people who want to go to remote destinations unreachable by other means. Expect to pay $50-100 per day.  In order to rent a car you need to be at least 25 years old and have your driver's license (it is even better if you have your international driver's license). When renting a car, make sure you know what will happen in case you run into trouble – a breakdown, accident, etc. If you are going outside city limits, we recommend a modern car that is sturdy and has 4-wheel drive as the road conditions get really bad outside of the major cities.
Cable Car
Currently, there are 4 lines of cable cars (red, yellow, green, and blue) in La Paz and the city is looking to add 7 more lines in the next phase. It is 3 Bolivianos to ride the length of one line and they have discounts for students, seniors, and people with disabilities. Taking the cable car is popular for both locals and tourists alike. It offers great views of the city as well as a very efficient mode of transportation, as you literally fly above the massive congestion that is commonplace in La Paz. You might feel like you are invading some privacy as it takes you over many people's residences but the panoramic views of La Paz are unrivaled.
There is also a cable car that goes up to the Christ statue in Cochabamba. We highly recommend it as it is safer than climbing the steps. Robbers tend to hang around them waiting for visitors with cameras etc.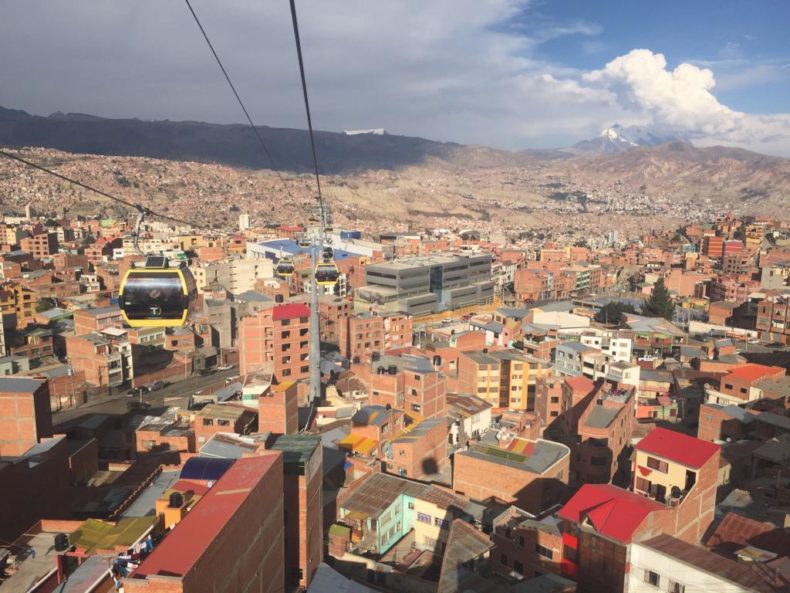 Motorcycle
You will see a lot of locals driving motorcycles in Bolivia. Among travelers, this is less common. There are however some tours that offer this option. It's a great way to surpass any hiking and see the beautiful countryside as well as tourist attractions but since traffic in Bolivia can be quite hectic, be careful of course.
Bus
The most common form of transportation in Bolivia for both travellers and locals is by bus. It is almost impossible not to take a bus in Bolivia. There are local buses called Micros and Trufis, and then there are long distance options like public buses and Bolivia Hop.
Micros
Cheap buses that run throughout each city. Here in Bolivia they call them micros. These buses run all over the city and come at a very cheap price. They have a set route through the city and pick-up/drop-off people all along this route. Many are very ornately decorated and an attraction in themselves. Just wave one down, hop on, and tell them when you want to get off. Clearly, you will need to know where their route goes, this is where you will need to ask locals or the reception at your accommodation. Pay attention to where you are going and who is around you. Pickpockets love micros!!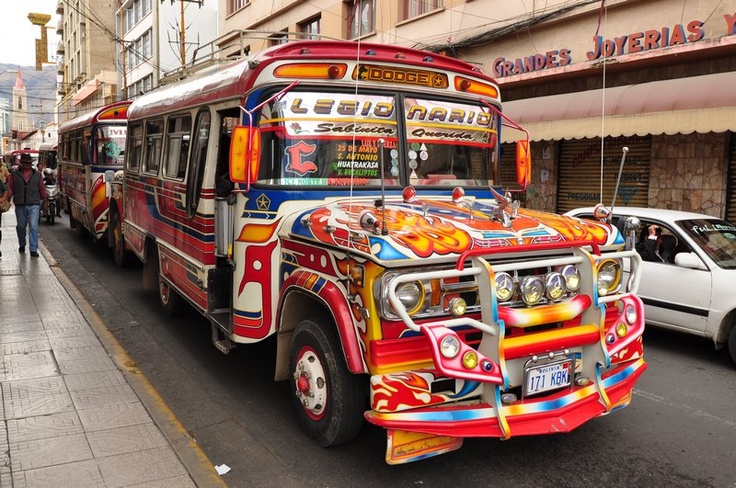 Trufis
A trufi is not a taxi and not a bus but something in between. Trufis have a set route and go from one destination to another, normally from the city to smaller surrounding towns. Trufis will have a sign on their dashboard to where they are going. They don't have a schedule, they just wait until the bus is full and then they leave. Thufis are very useful when going on day trips to nearby attractions outside of the city. For example, there are buses like these that go from La Paz to Tiwanaku for people to see the ruins. Like with the Micros, Trufis are a hotspot for pickpockets and thieves. The chaos on the little buses and the limited space make it a perfect location so pay attention to your surroundings.
Public buses (long distance)
A common way of traveling between two cities in Bolivia is by public bus. Because of the distance between destinations, they are usually overnight buses. This is great since you won't have to waste any daytime taking a bus, but take note of the arrival time. Some buses can arrive as early as 4-5 am in the morning making it unsafe when arriving.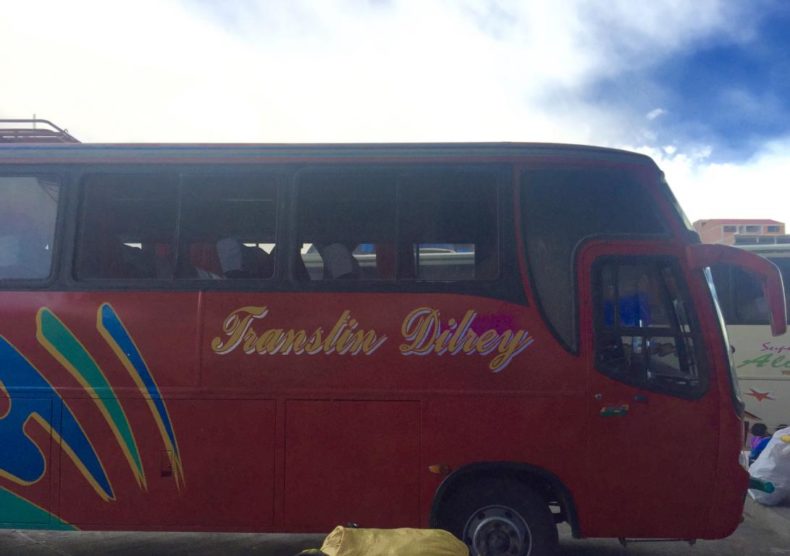 The most popular buses to take are El Dorado, Trans Empreador, and El Bolivar. There are many other bus companies that travel throughout Bolivia so you will have many options to choose from. Remember that what you save in money you will often sacrifice in comfort, safety, and reliability. And ALWAYS make sure to check Tripadvisor and any other place where you can see reviews of the bus company you have in mind.
Did you know? Bolivia Hop offers safe pick-ups and drop-offs to avoid dodgey terminals. Apart from that, the bilingual guides onboard are always there to help and give you the best tips of each destination. Click here to learn how Bolivia Hop works!
How to purchase your ticket:
In most cases, you are able to purchase your ticket right at the bus terminal. There are a select number of companies that will allow you to book your ticket a day or two in advance, but in general, it is not necessary. The closer to the departure time you purchase your ticket the cheaper it is going to be. Normally, it will be between 20 Bolivianos and 150 Bolivianos ($3-$22). Prices will increase during the holidays.
Things to note before taking public buses in Bolivia:
There are often blockades and strikes that prevent buses from running or cause delays.
Most people do not speak any English in the terminals or on the buses.
There is no onboard assistance should a problem arise.
Bolivia has many unpaved roads that result in some bumpy journeys.
Rainy season can also cause poor road conditions and delays.
Bus companies tend to be lenient with their departure and arrival times.
Public buses have a reputation of being old, not well kept, and cold, so make sure you are prepared by layering up!
Some routes (i.e. to Santa Cruz) will make you sweat of humidity – especially if they decide to turn on the heating when it is not necessary.
Some companies may charge you if you exceed the baggage limits.
Tips:
If you do have luggage that you want to store under the bus, make sure you get a ticket for each piece of luggage. This is important to make sure others don't take your luggage and you have a record that the company took your luggage. Make sure your luggage gets put on the same bus as you! Watch them put your bags on the bus before you get on if possible.
Do not leave your luggage unattended in the terminal.
Keep you hand luggage really close on the bus.
Additional Information
Road conditions: Let's just say some roads are better than others. Not every road is like the Yungas Death Road, but there are a lot of similar routes. After taking one of these routes, you will then see how your patience is braving the roads again. It also depends on if you are taking your own personal transportation, a cheap bus, or one of the more expensive buses and, of course, which route you are taking.
Drunk drivers: Be aware that it is not uncommon that Bolivians choose to get behind the wheel intoxicated. Whenever you are traveling down the roads of Bolivia, either driving yourself or as a passenger – be cautious. The roads are narrow and they don't leave much space for maneuvering.
Tours like the Salt Flats Tour are a good example of when you need to make sure your safety comes first.  Whichever company you choose to go with, make sure that they have a good safety record, their cars are not a death trap, and the drivers are alert.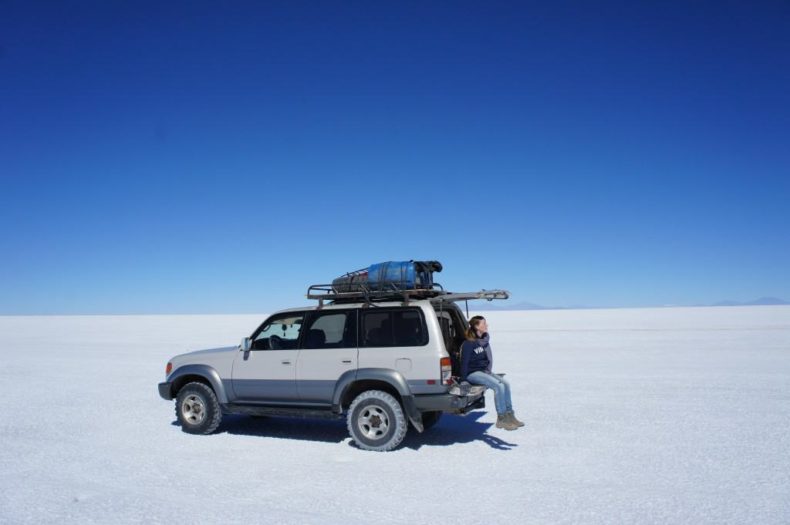 Bolivia Hop
If you are traveling between La Paz, Copacabana, and Peru, there is the option to travel with Bolivia Hop. Unlike public buses, Bolivia Hop offers the flexibility to choose when you leave, where you stay, and what you do during your trip. Local, bilingual, Bolivian guides are onboard each bus to help and assist while giving the best tips for each destination. In addition to being your mode of transportation, they offer border crossing assistance at the Peru/Bolivia border. Bolivia Hop has top-of-the-line buses, deals on accommodation and tours, alert drivers, and safe pick-ups and drop-offs. If you want to learn more check out the passes page.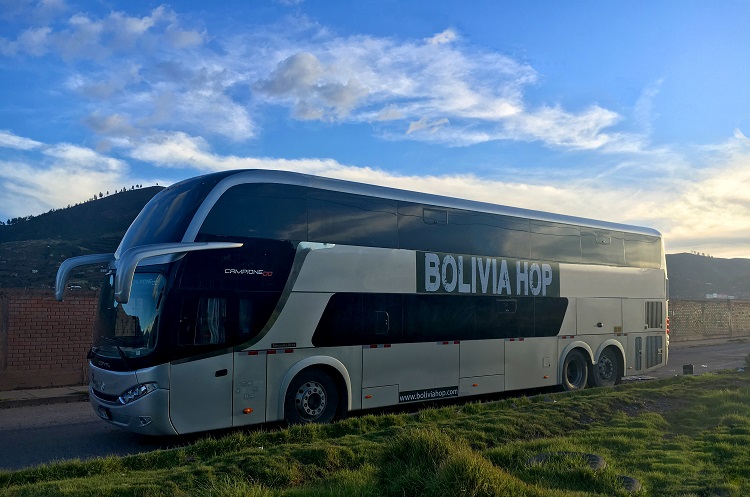 Plane
Flying is the most expensive option, but it can be a good option if you are very short on time. In addition, traveling by plane is sometimes the safest option when going to places such as the jungle because of the dangerous road conditions. All major cities have their own airport, just be aware that the airports are often outside of the city and the taxi ride to the center of the city might be expensive. La Paz airport is actually located in El Alto (the adjacent city) and over an hour in a taxi from the center of La Paz. When traveling by plane in Bolivia be aware of the significant differences in altitude between certain cities within the country.
Prices for domestic flights: A one-way ticket will cost you about 250-550 Bolivianos ($35-$80) depending on where you want to travel to in Bolivia. Prices will increase significantly during holiday periods. Always check on baggage limits so you are not overcharged. Popular airlines to take include BOA or Amazonas.
Train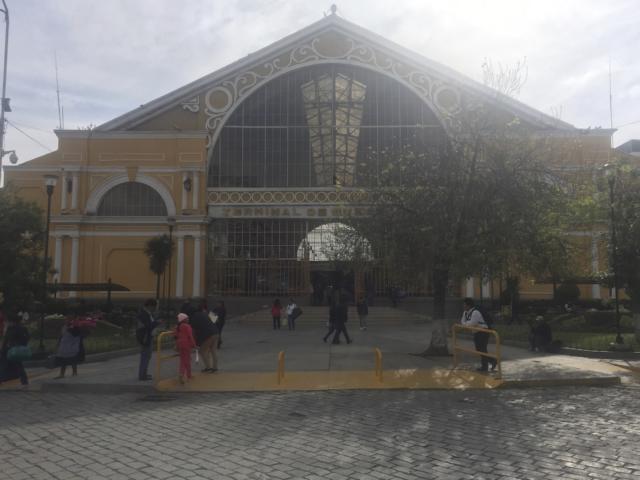 There are a few opportunities to take the train in Bolivia.
Although the options are limited you are able to buy tickets in La Paz, Oruro, Uyuni, Atocha, Tupiza, Villazón, and Cochabamba. For the most up-to-date information visit http://www.fca.com.bo/.
WEST
The Expreso del Sur
– Service between Oruro and Villazon
– Stops in: Uyuni, Atocha, and Tupiza
The Wara Wara del Sur
– Service between Oruro and Villazon
– Stops at every train station in-between
The Tren Turístico
– Service between El Alto to Guaqui (small port on Lake Titicaca)
– 1.5 hour stop in Tiwanaku
The Bus-Carril (bus-train)
– Service from Cochabamba to Aiquille
– Stops in: Tarata, Cliza, San Fransico, Anzaldo, Sacabamba, La Cumbre, Sivigani, Vila Vila, Pajcha, Chaguarani, Tin Tin, Mizque, Aguada, Rumi Chancha, and other small towns.
– Service from Sucre to Potosí
– Stops in: Yotala, Ñucchu, Carvajal, Higueras, Vila Vila, Noel Mariaca, La Cumbre, Quivi Quivi, Betanzos, Don Diego and other small towns.
EAST
The Expreso Oriental
– Service between Santa Cruz and Quijarro (on the border of Brazil)
– Stops in San José de Chiquitos, Roboré, Rivero Torrez, and Quijarro.
The Ferrobus
– Completes the same route as the Expreso except it makes additional stops in small towns along the way.
The Tren Mixto
– Service between Charagua and Yacuiba (on the border of Argentina)
– Stops in: Boyuibe and Villamontes
There you have it, an overview of the different transportation possibilities when traveling through Bolivia. The sites to see here are definitely worth navigating Bolivia's crazy transportation options, but luckily roads and infrastructure are getting better each day. For the time being, all we can do is be patient, careful and enjoy the (sometimes unexpected) adventures magnificent Bolivia has to offer.