Do you ever get the feeling that your trip in Latin America is just too safe? Are you a thrill seeker constantly looking for the next ultimate adrenaline rush? Are you willing to take real risks in your search for memorable experiences? If so, the infamous Death Road Cycle in Bolivia may just be the trip for you.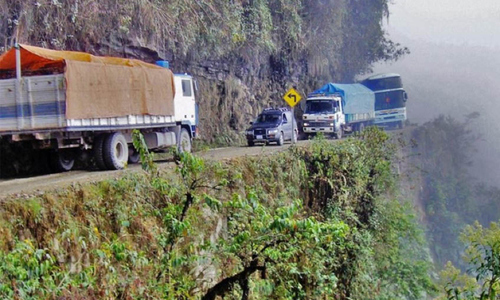 Properly called "Camino a los Yungas" or "Yungas Road" the Death Road leads down from the Bolivian capital of La Paz to the town of Coroico. An average of 300 travellers lose their lives on this treacherous route each year, and the road is marked by countless crosses that mark the final resting places of the unfortunate victims of accidents. The road is only as wide as a single vehicle in most points, and the law states that any vehicle heading downhill must yield to one coming up. Adding to the confusion and danger, it is also the only road in the Americas where driving is done on the left side of the road.
Despite the danger and difficulty of navigation on the death road, it is a very important route for Bolivian transportation and commerce. Perhaps because of the danger itself, however, it is increasingly popular with downhill mountain bikers looking for an unforgettable adventure.
Quick Tip: The best way to get to the famous Death Road and see some of Bolivia's best hidden gems is to travel with
Bolivia Hop
.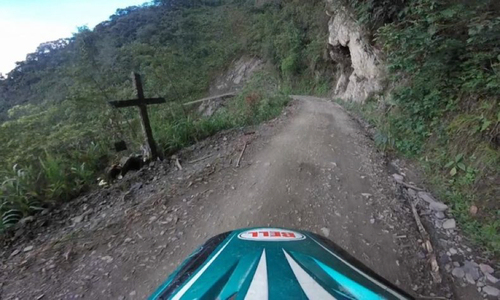 Most bike tour companies will pick you up at any of the main hostels or hotels, or you can meet at a predetermined point for a van ride up to the peak of La Cumbre where you will start your trek. The descent starts slow and mild, but savor the easy first portion and use it to get used to the handling of your bike, before the going gets steep and rough.
The downhill portion of the trip lasts a full 64 kilometers (40 miles), with very few short uphills, ensuring that you'll get tired not from pedaling, but from controlling your speed, taking sharp turns, and keeping your balance on thin roads above massive cliffs. The route will take you from the snow capped andean peaks, along winding mountainsides and cliffs, sometimes over a kilometer down, to the hot Amazon jungle down below.
The views are to die for, and the verdant greenery of the mountains is a once in a lifetime sight. The scenery changes throughout, always offering new sights, smells and sounds as you make your way from the top of the world down.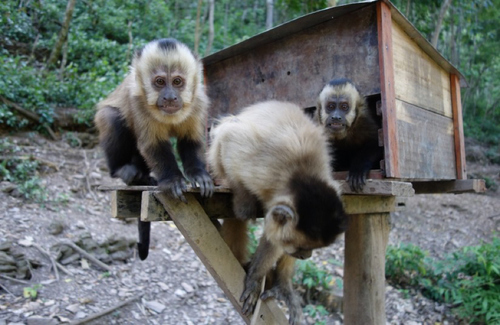 At the end of the route, in the village of Yolosa you'll get a meal, a beer, and a shower. You have the chance to visit the La Senda Verde Wildlife Refuge, which is full of friendly monkeys and over 50 other species of endangered animals. All fees to enter the refuge go to maintaining the refuge and fighting the illegal international wildlife trade.
After a bit of relaxation the company facilitating the trip will take you back to your starting point in La Paz, or, for an extra fee, book you a secure taxi to the town of Coroico to continue your journey.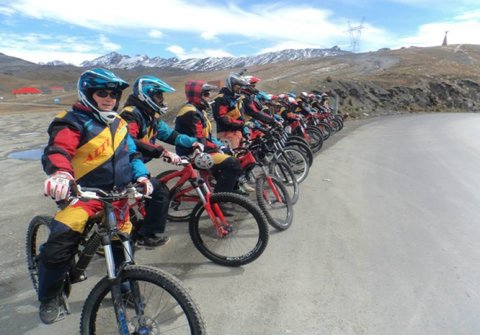 Several companies run mountain bike tours that follow the twisting road down the mountain, and it is well worth your time (and life) to find a reputable company and guide. Recommended companies are Gravity Bolivia, Altitude Adventures, Barracuda Biking, and Vertigo Biking, all of which employ bilingual local guides skilled in first aid and mountain and rope rescue, and well maintained bikes with brakes changed regularly.
The local government charges a small fee to bikers, but this money goes to maintaining the road and making it safer for the people who have to use it every day. You will also need insurance, but if you don't have international health insurance you can purchase three day's worth cheaply with most tour groups.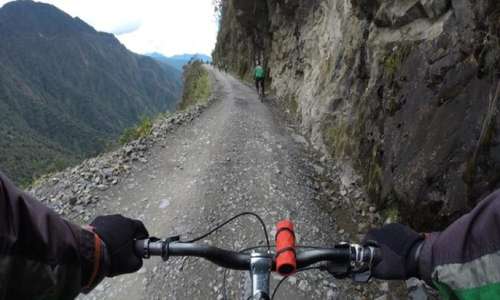 The best way to book a mountain biking tour down Death Road is through our partner FindLocalTrips.com, which specializes in finding safe, ethical tours and other activities throughout Latin America. Everything booked through Find Local Trips is locally-owned and screened for safety, quality and ethical business practices, so you know your money is going to support the local economy rather than some exploitive tourism corporation.
Book your
Death Road tour
now and don't miss these other amazing places that Bolivia has to offer.
The most enjoyable and safest way to get to La Paz is by Peru Hop and Bolivia Hop's hop on hop off bus service. With Peru and Bolivia Hop you can get on or off at any of our stops between La Paz, Cusco and Lima on your own schedule, and hop back on the next bus heading the same direction that is most convenient for your trip. With fully bilingual local tour guides who will show you sights and attractions unknown to ordinary tourists, and stops in Paracas, Huacachina, Nazca, Arequipa, Puno and Copacabana, Peru Hop is your best bet for exploring southern Peru and northern Bolivia.