Sitting at over 3,500 metres above sea level, not only is the city of La Paz dizzyingly high, but it is also the largest in Bolivia. Surrounded by towering mountains, this is an exciting, chaotic city where old and new collide. While at first glance this giant metropolis may not appeal to you, if you can see past the commotion you'll be rewarded by discovering the hidden quirks of this dynamic cosmopolitan city, a booming commercial hub which still retains its indigenous traditions. Here is a pick of the best things to do in La Paz, Bolivia.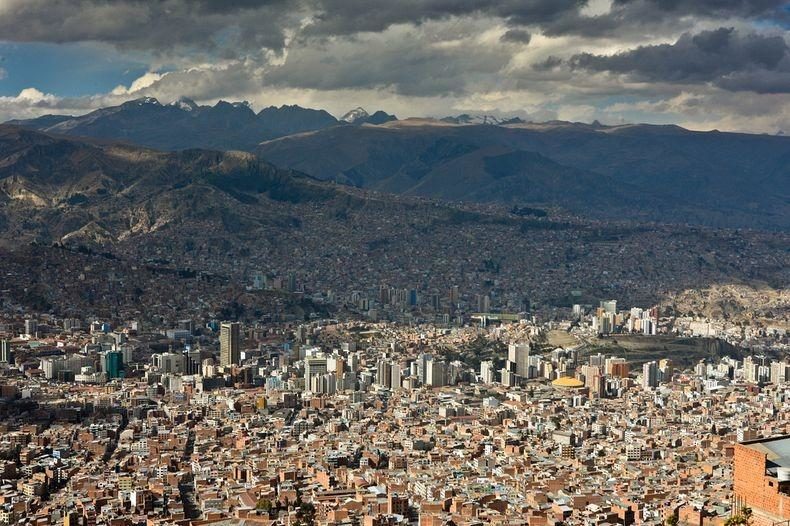 1. Mi Teleferico
Used by locals as a means of public transport, take a ride on this cable car network for an inexpensive city tour. Admire the scenery as you glide over this sprawling metropolis, and take in the panoramic views of the soaring Andes mountains, all the while in your tranquil bubble.
The cars you ride in are clean, and hold a maximum of 10 people, meaning you can travel in comfort. Running from 5am until 10pm, why not catch the sunrise or sunset from the highest cable car in the world, at 4,000m altitude!
For the best views, take a trip up to El Alto on the yellow line. A one-way ticket only costs 3 Bolivianos, and this journey takes just under 15 minutes.  Escape the noise, the crowds of people, and the heavy traffic for a birds-eye view of La Paz.
2. Death Road
For all the adrenaline junkies, no trip to La Paz would be complete without experiencing biking the world's most dangerous road. Starting an hour's car ride away from the city at La Cumbre, the "Yungus Road" stretches 64km, and reaches heights of 4,650m.
Even if you're not into extreme sports, the views you'll get on this 4 to 5-hour trip are spectacular: on some parts of this route, it's literally a ride through the clouds. You'll pass lush Amazon rainforest, rivers, streams, and waterfalls. The first part of the ride is on tarmac, so you can get accustomed to the bike.
Later, some parts of the road are as narrow as 3 metres! Make sure you select a reputable tour company to ensure a safe and enjoyable trip. Follow the winding road with sheer drops, and experience the thrill of the ride – just don't look down!
Quick Tip:
Experience the thrill of biking the
Bolivia Death Road
, one of the most dangerous roads in the world! Enjoy amazing scenery as you descend from high-altitude mountains to jungle landscapes.
3. The Witches Market
While El Mercado de las Brujas may be situated in a lively tourist spot, this isn't any normal souvenir market. Of course, you'll find your typical tourist trinkets here, but as you wander past the colourful stalls, look more closely and you'll notice the quirky, fascinating wares for sale: "witches" herbs and remedies, owl feathers, medicinal potions, dried frogs for rituals, and llama foetuses said to bring good luck, amongst other peculiarities.
Run by local witch doctors, look out for one of these mysterious, darkly-cloaked figures, and have your fortune told. A unique place with real history and folklore – sorcerers and witches have lived and worked on these streets for centuries, and still do to this day. Discover the mystical traditions of Bolivian culture.
4. San Francisco Church
For those who desire a bit of culture and history, a trip to the Iglesia de San Francisco would not go amiss. This beautiful Catholic church is worth a visit, and you don't need to be religious to appreciate the intricate floral detailing on the façade, with the interior architecture being just as impressive.
Ascend the narrow staircase to the rooftop and bell towers for a view of La Paz in all its glory. You can look out to the city's main plaza, an ever-lively spot of constant activity, whether it's chess tournaments or live bands.
Sit out in the square and admire the church's Baroque architecture from the outside, or retreat inside to this place of calmness and spirituality amongst the city's chaos. It's just 20 Bolivianos for entrance and a tour.
5. Moon Valley
Escape from the hustle and bustle to a very different kind of environment: Valley de la Luna is a strange but beautiful place, of rare geological formations, and a dull colour palette consisting of sand, grey, and reddish-brown, scattered with the occasional green cacti.
Follow the wandering paths and lose yourself for an hour or so in the unusual moon-like landscape. It's about 10 km from the city centre, and will only cost 4 Bolivianos one-way if you take a combi (minivan) from the Plaza San Francisco. Entrance is 15 Bolivianos.
If you want to keep exploring away from the urban area, why not visit la Muela del Diablo, or "the Devil's Molar", where you can enjoy a hike, and get a great view over La Paz and Moon Valley.
Quick Tip:
If travelling to or from Lima Airport, it is strongly recommended to use the luxury
Airport Express Lima
bus to get to or from your hotel. Safer and cheaper than a taxi with no baggage limit as well as free Wi-Fi and USB chargers onboard, it is ideal for travellers.
6. Jaen Street
For a more relaxing activity, why not take a stroll down the quaint, colonial Jaen street. Here you can get away from the noise and traffic, as this is a pedestrian-only area.
The colourful buildings on either side are well preserved, and are home to several museums, art galleries, cafes, and shops. Wander the cobblestoned street, take note of the balconies, name plaques, and other charming features, and of course don't forget your camera!
Agree with our list? What other must-do's can you recommend in La Paz? Please let us know in the comments below!

To book a tour in Bolivia we recommend you use
FindLocalTrips.com
a search and comparison website for tours across all of South America.