Located in central Bolivia, Cochabamba is a city full of life. With a booming population and a rapidly developing society and economy, this progressive city is not to be missed on your travels. Here, prosperity and poverty collide: whilst the thriving nightlife and the renowned business industry may highlight a certain affluence, underprivileged areas of deprivation exist, and the city's people are by no means well-off.
Did you know? Bolivia Hop was setup by 2 Irish guys in 2014 and was voted the #1 way to travel around Bolivia in 2023! Click here for more info.
More economical than Sucre or La Paz, you'll find your money goes further here. The city itself is situated in a lush valley, with a backdrop of mountain peaks and fertile farmland soils. With a balmy climate, and at a lower altitude (2,558m) than other famous Bolivian cities, you're likely to spend some time here taking it easy. However, make space on your schedule, as there are plenty of things to do in Cochabamba!
1. El Cristo de La Concordia
Whilst the most famous Christ statue is in Rio de Janeiro, Cochabamba's own provides worthy competition, being the highest Cristo in South America. Seen from the city if you look to the northeast, this notable landmark boasts the best views of Cochabamba.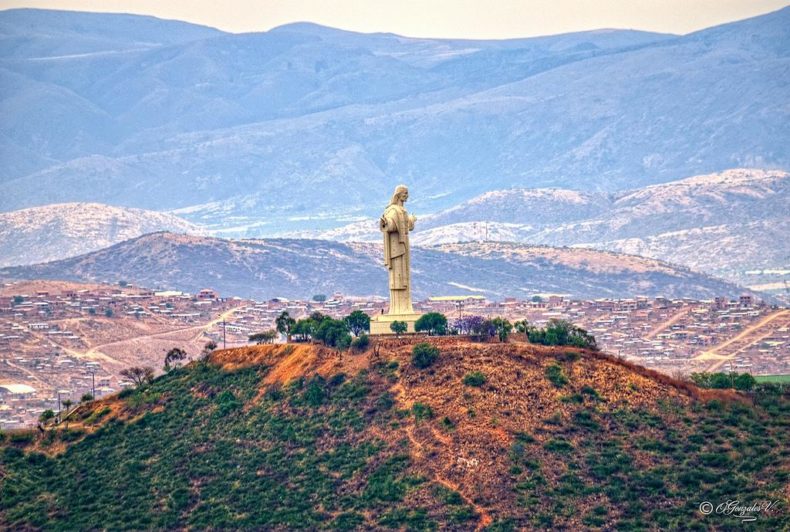 Climbing up to El Cristo is a must-do activity: you'll get a real feel for the enormity of the city, which is the fourth largest in Bolivia, with 360 degree views. Take the stairs if you're feeling energetic (be wary of robberies and do not take valuables – Cochabamba advises against taking the stairs), otherwise hail a taxi, or ride the teleferico (10.50 Bolivianos round-trip).
You can even climb the internal staircase of the statue on certain days (1.50 Bolivianos, be sure to check the schedule for this). Bring your camera for some amazing shots of the city and its surrounding landscape.
2. La Cancha: Cochabamba's giant open-air market
Shop like a local and visit La Cancha, one of the largest flea markets in South America! Incredibly cheap and busy, this place contains a myriad of commodities: clothes, animals, textiles, food, handicrafts, technological merchandise, kitchen utensils… the list goes on.
Make sure you bargain the price down, and watch out for pickpockets. Do your souvenir shopping, purchase fresh food for the day, or simply wander the aisles – treat this not only as a shopping trip, but as a cultural experience.
Take stock, observe the people around you, and see the locals going about their daily lives. Get lost amidst the walkways in this fascinating labyrinth, and let your senses run wild with the aromas, colours, and noises of La Cancha.
3. The famous Cerro Tunari mountain
Fancy a day out of the city? Why not hike up the majestic Cerro Tunari, a mountain which sits at 5035m high, dominating the landscape to the northwest of Cochabamba. Travel two hours on the road, and go from a semi-tropical urban climate, to a mountainous and fresh environment (wrap up warm!).
Many tour agencies offer this trip, transporting you to the wild Bolivian lands. Before doing this hike, make sure you're well-acclimatised and have taken the necessary precautions to prevent altitude sickness, as heights here are extreme (5035m). If you don't manage to reach the top, there's a beautiful deep aquamarine coloured lake you can sit by on the way up.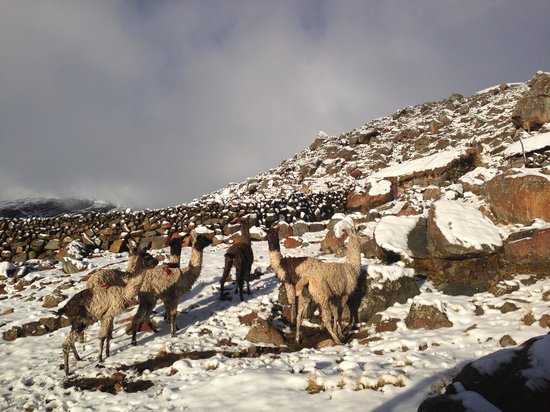 For those who do get to the summit, you'll be rewarded for all your hard work with a stunning view of the Cochabamba valley below, and the surrounding mountain range. A perfect excursion for nature-lovers, keep your eyes out for llamas, and the magnificent condors which soar overhead. Enjoy the silence of the natural world.
4. Palacio Portales
This one's for the culture vultures and history buffs: as Cochabamba is not a typically touristic city, seize the opportunity to learn more about a famous figure in Bolivia's history, Simon Patiño. Palacio Portales is a splendid gold-coloured mansion, featuring beautiful gardens and a lavish interior.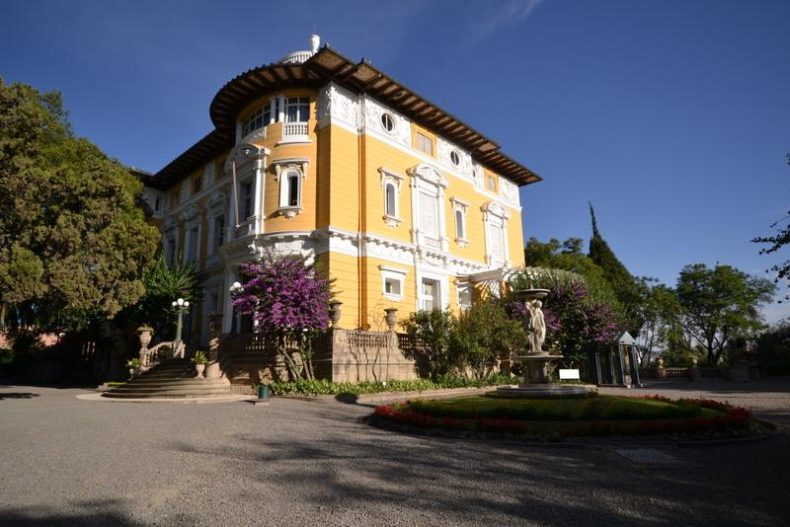 Commissioned by Simon Patiño, this was a man who found his fortune in the tin mining industry, and was one of the richest people in the world. Designed in Europe, you can certainly note the fine architecture, which has French and Italian influences.
It's 20 Bolivianos for a guided tour, otherwise it's free to wander around the grounds and gardens. If you visit the interior, you'll be amazed by the extravagant décor – this place is an example of extreme wealth, and is so well-preserved, you'll feel yourself stepping back in time to the early 19th Century.
Connect with the past, and learn the tale of Patiño, a wealthy tycoon who sadly never came to live in this magnificent mansion. Still owned by the family, this place is now used as a museum and a cultural centre for music and art events. A hidden treasure in Cochabamba, and a haven of peace in the midst of a busy city.
5. Torotoro National Park
Another city escape, this is one of the most stunning National Parks in Bolivia. Torotoro is one big adventure, with so much to discover: from dinosaur footprints to cave-paintings, from canyons to waterfalls, try hiking, rock climbing, fossil hunting, or caving, and look out for the stalactites and stalagmites.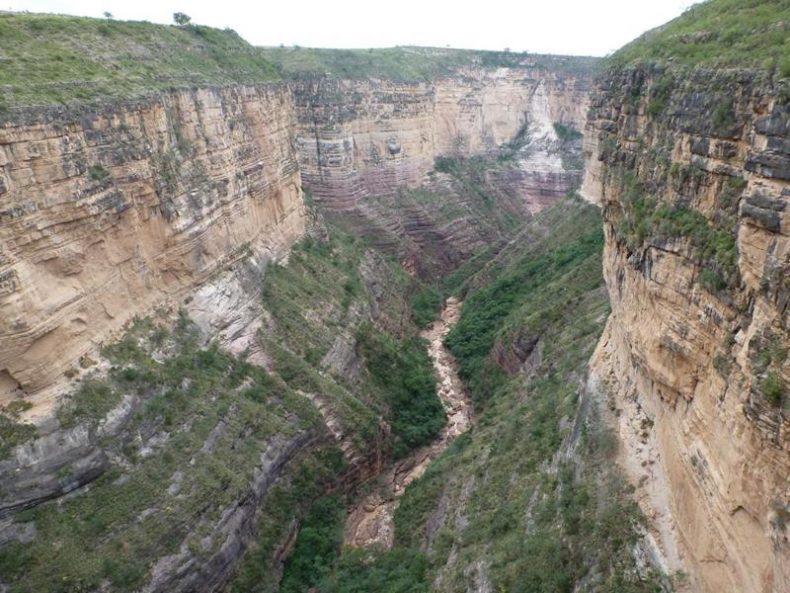 Set in a semi-arid landscape, you'll find altitudes ranging from 2000 to 3500m.a.s.l., and deep canyons extending as far as 300m! Don't miss the incredible Uma Jalanta cave, 164m deep and 4,600m long.
A fair way away, at 4 hours driving (35 Bolivianos in a collectivo), you may like to stay two nights in order to make the most of your visit. There are some basic hostels available, such as Eden or Charcas. It's necessary to contract a guide who will take you around the National Park – just head to the town's main plaza, and join up with other travellers to make a group of six.
Most people do this, as the tour costs are split between the group, with six being the maximum number. Make a trip to the ancient land of Torotoro, where dinosaurs once walked.