You can be an adventure loving traveller and an adrenaline junkie, but if you're all of that and haven't visited Peru yet, you're missing out. Although the history of Peru is rather intriguing as a subject, you don't need to have a lot of knowledge about Peru to enjoy its beauty. Peru is where the famous Inca Trail resides, and has been one of the most visited places in the country to date. But that's not all that Peru has to offer. This picturesque and adventurous location has many other amazing spots scattered all around. Take a look at some of the best places to visit in Peru below…
Quick Tip:
If travelling to or from Lima Airport, it is strongly recommended to use the luxury
Airport Express Lima
bus to get to or from your hotel. Safer and cheaper than a taxi with no baggage limit as well as free Wi-Fi and USB chargers onboard, it is ideal for travellers.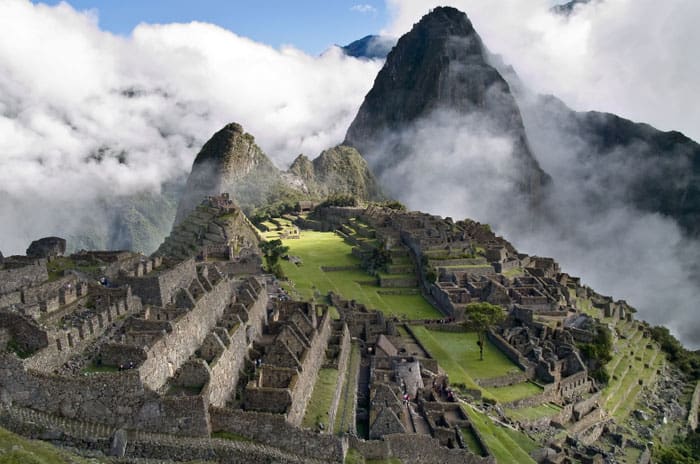 1. Huacachina
The quaint and charming town of Huacachina surrounds a natural oasis, and has sand dunes towering above it on all sides, making it an unusual sight to behold. Huacachina was a favourite of the elites of Peru back in the day, and to this day it attract travellers from all over the world. Buggy rides on the sand dunes and sandboarding are by far the most popular activities in this town.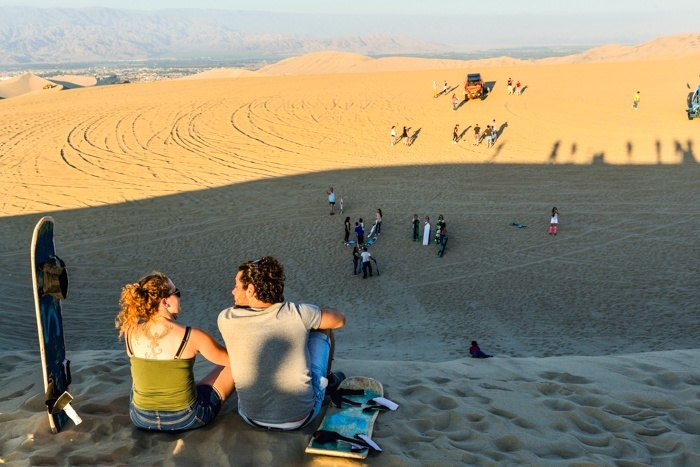 2. Inca Trail
This road to Machu Picchu is a haven for adventure lovers. Being one of the most popular hiking trails in the world, the Inca Trail runs 42kms across the Andes Mountains, connecting the town of Aguas Calientes and Machu Picchu, going through deep woods, and Inca ruins. The best part about the trail is that being at such high altitude, it can give you a rush of adrenaline – but it can also cause you to experience some altitude sickness symptoms. Though if you're an adventurous hiker, it wouldn't bother you as much. Cold nights and an adventurous hike spanning a couple days will make it extremely fun a time.
3. Machu Picchu
It's time to look at the one place that is synonymous with Peru. You'd think that it's quite a cliché and that Machu Picchu would be the obvious choice when you visit Peru, but think about it, it's all people can talk about when it comes to Peru. They must be on to something right? Head to Cusco and take the train in the early morning so that you can enjoy the breath-taking view from this beautiful world heritage site. The history of Machu Picchu is quite intriguing, but the view and the environment of the place is obviously so charming that you simply cannot miss it. It's not one of the most popular tourist destinations in the world for nothing.
4. Amazon Jungle, Iquitos
The Amazon Jungle in Peru is a riveting environment given its adventurous characteristics. Take the Amazon boat tour from Iquitos, the world's largest city that is not accessible by road, and tour the mesmerizing rainforests that will leave you with a memory that'll last a lifetime. The beauty of the Amazon Jungle is no secret, and once you've had a taste of it, there is a guaranteed chance that you might visit again.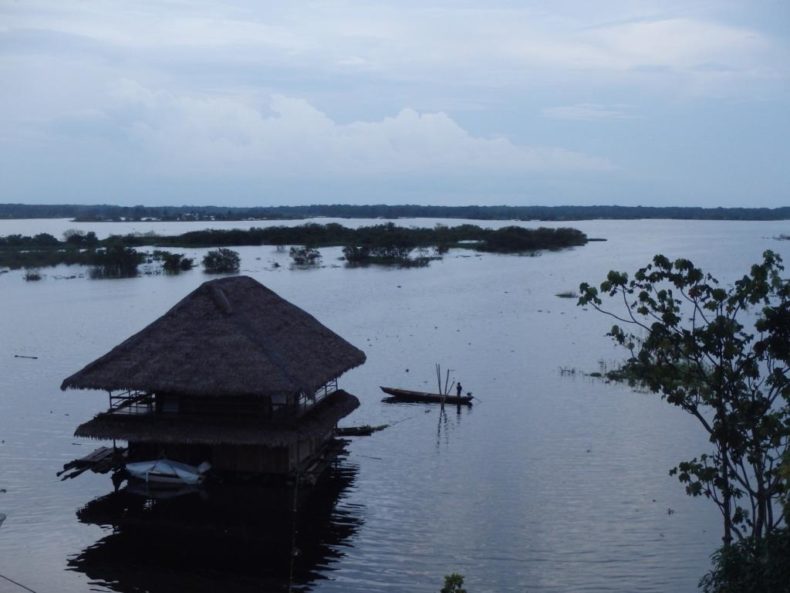 For information on booking a tour, comparing operators and reviewing prices we recommend to use
FindLocalTrips.com
a comparison website for tours and activities across South America.
5. Cusco and the Sacred Valley
Make hiking your best buddy when you're in Peru. A hiking trip will be irresistible once you've visited Cusco and the Sacred Valley. The cobbled pathways and twisting roads leading towards Machu Picchu will entice you like no other. There is also the option of taking a bus to transport yourself, but if you opt for a hike, it'll be all the more fun to observe the view below. On the way, there are markets and the Plaza De Armas, and with Cusco being the gateway to other amazing attractions that garner worldwide popularity, it shouldn't be ignored.
6. Lake Titicaca
Explore the rural parts of Peru at Lake Titicaca, across which you can take a 10-hour train ride from Cusco to Puno, with the mesmerizing view of the lake as you trail through its banks. The train ride at Lake Titicaca is known to be one of the greatest train journeys in the world but it is also one of the most expensive. Lake Titicaca is a magnificent sight to behold when you stop to admire it, and you'll see how the largest lake in South America has so much beauty in it. You'll admire Lake Titicaca in awe. A lot of travellers have accounted their experiences as being completely mesmeric.
Peru's natural and architectural beauty is unmatched, and with endless possibilities of adventure, trekking, and sports, travelling across the country is a delight. So, grab your backpack and get over here.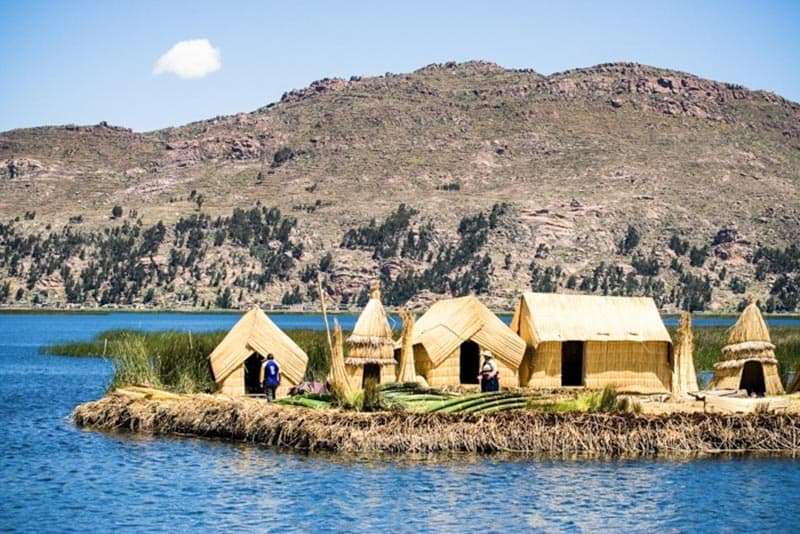 Quick Tip:
Experience the thrill of biking the
Bolivia Death Road
, one of the most dangerous roads in the world! Enjoy amazing scenery as you descend from high-altitude mountains to jungle landscapes.
7. Santa Catalina Monastery
Situated in the Arequipa region of Peru, the Santa Catalina Monastery was built in the year 1579 in the Mujedar style of architecture with its distinct features being its richly painted walls. The monastery spans over 20,000 square meters, and even if you've already visited lots of historic locations in Peru, this monastery is one that shouldn't be missed. Despite being a religious site, the Santa Catalina Monastery is nearly a citadel within the city. Guides are available to help tour the monastery – and speak English, Spanish, Italian, French, German, or Japanese. Up until the monastery closes, visitors can roam the corridors alone. At night, the monastery remains in total darkness, illuminated only be candlelight. Touring the area at this time is said to make the visit a more spiritual one.
Author Bio:
Rohit Agarwal, a traveller and an adventure-lover shares his experiences on TransIndiaTravels after having toured the most interesting tourist locations of the world.
To book a tour in Bolivia we recommend you use
FindLocalTrips.com
a search and comparison website for tours across all of South America.