La Paz is an extraordinary metropolis and one of the most chaotic places you will find. Located in the Cordillera Real, while also being only hours away from the jungle, La Paz offers all kinds of extreme sports. Most know Death Road, which is famous for its mountain biking with a twist, but its unique geography also makes La Paz absolute heaven for hikes, treks and climbing. Below you can find our top 4 best hikes if you are looking to do some trekking from La Paz.
Did you know? Bolivia Hop was setup by 2 Irish guys in 2014 and was voted the #1 way to travel around Bolivia in 2023! Click here for more info.
1. El Choro Trek
Route: Inca Trail from the Cordillera Real and Parque Nacional Cotopata to Yungas
Duration: 3 Days – 50km
Difficulty: Moderate-hard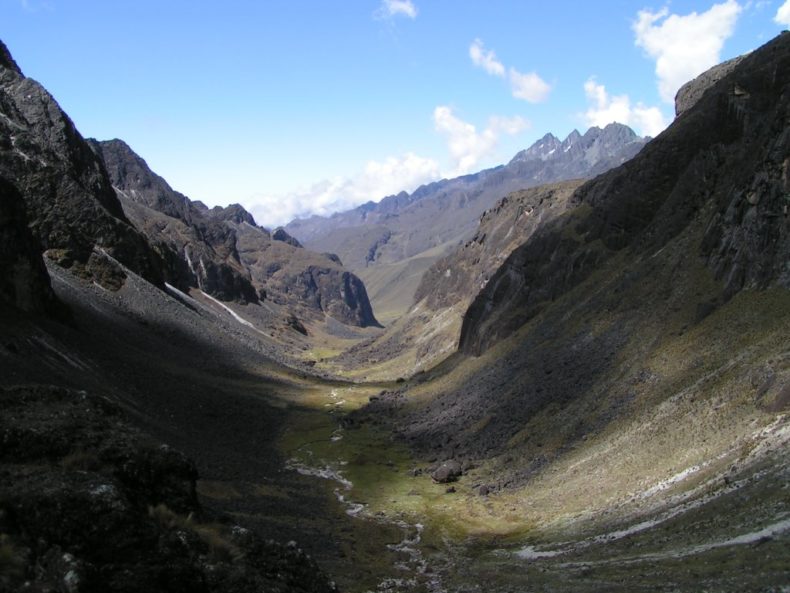 The El Choro Trek is one of the most popular treks in Bolivia and that's not a coincidence. Although it has the added advantage of starting only an hour from La Paz, which obviously helps, its real selling point is its immense variation.
Hiking the El Choro means ascending to altitudes of almost 5000 metres in the Andes Mountains, to then descend to the sweaty, subtropical temperatures of the Bolivian jungle. The El Choro has it all.
Trek Itinerary
Day 1:
The trek starts from the town of La Cumbre in the Cordillera Real (an hour by car from La Paz) at 4.700m. From here the trek ascends to 4900m where you can find the pre-inca trail that descends to the village of Challapampa for a total of 6 hours walking.
Day 2:
The trek continues with lots of descending and ascending and temperatures become tropical. The views of the Jungas rainforest are spectacular. The second day is 8 hours of walking and ends in Sandillani Village.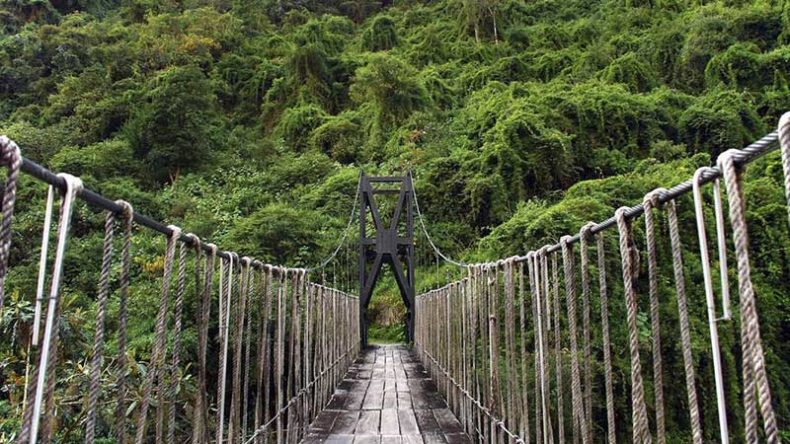 Day 3:
This last day, the trek heads into the jungle for a 5-6 hour walk. It gets pretty warm and insect repellant will be your best friend. The trek ends in the village of Chairo at 1350m.
Depending on how you organize the trek, the difficulty level is moderate to hard. You can do it in two days if you're up for it but three days is a better pick for the average hiker.
Don't underestimate the challenges of the different weather conditions and the altitude. Prepare for this trek with at least a few days in La Paz to acclimatize.
2. Muela del Diablo Hike
Only 15 minutes from La Paz lies the Devil's Molar or "La Muela Del Diabolo". Yes, that means it looks like a devil's tooth with cavities, although some would argue that it looks more like a dinosaur. No matter what you think it resembles, I'm sure we can all agree that it is one crazy looking volcano.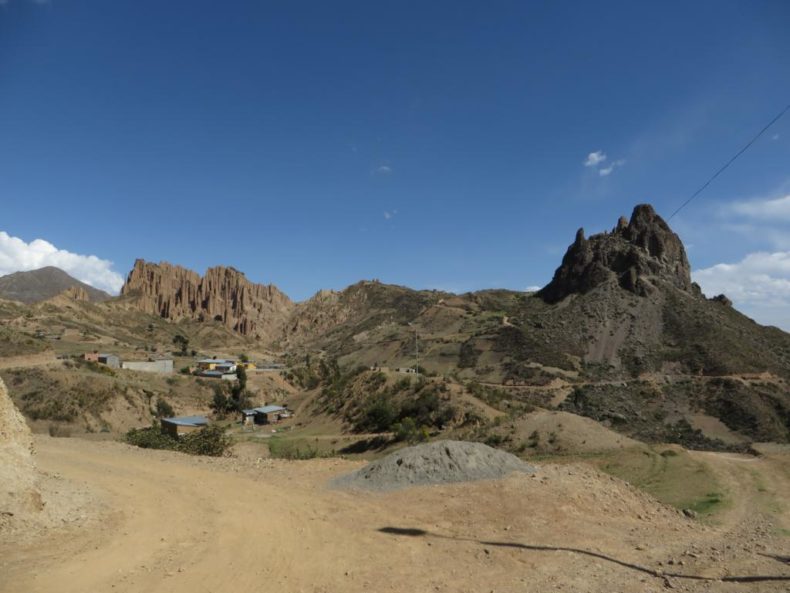 There are various routes to take and most are quite easy. It is easy enough to plan on your own. To give yourself a bit of a challenge, walk back along the ridgeline.
You can just take a taxi there from La Paz and tell it to wait or go back via minibus after (until 6.30pm). Try to go as early as possible to avoid missing the bus and hiking after sundown. El Muelle lies at 3825m above sea level and overlooks both La Paz and the Valley of the Moon.
3. Huayna Potosí Trek / Climb
Route: From the Zongo pass to Campo Argentina to Huayna Potosí (6,088 meters)
Duration: 2-3 Days
Difficulty: Very difficult
At this point, the line between trek and mountain climbing becomes very vague or non-existent. The reason we've added this trek is because the Huayna Potosi is a unique mountain with a 6000m peak that is a beginner level climb i.e. non-technical. But don't misunderstand, it is not for the faint hearted and not at all easy.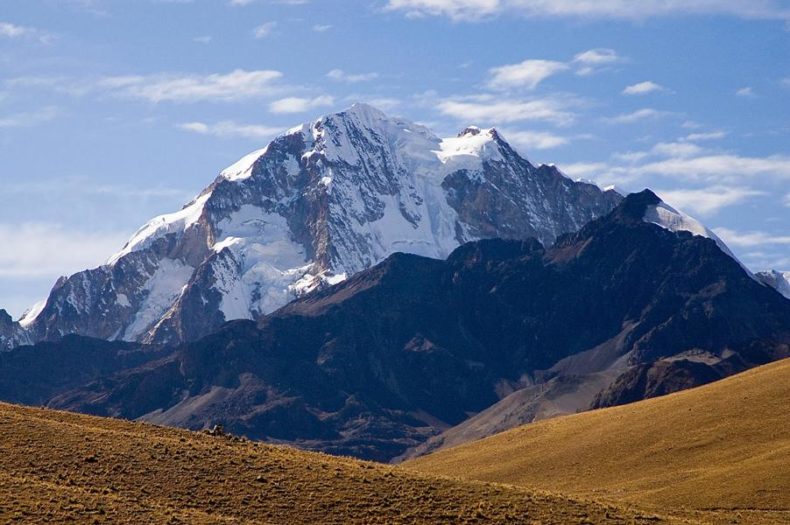 Potosí Mountain or Huayna Potosí is located about 25km from La Paz and a trek will be two or three days depending on your level. If we assume this is your first go at climbing, you will probably want some lessons before you take on its peak!
Trek Itinerary
Day 1 (for rookies):
The first day is all about preparation. The tour company will provide climbing gear and will take you to the lower glacier where you can practice using the climbing gear (ice picks are involved) and where they will teach you how to stay safe on the mountain.
Day 2:
This is when the hiking comes in. The hike starts from the Zongo pass and lasts about 2-3 hours. It takes you to an altitude of 5200m at High Camp (or Campo Argentino). Here you can camp or stay at a refuge depending on your preferences. That's it for day two, as the climb starts in the middle of the night.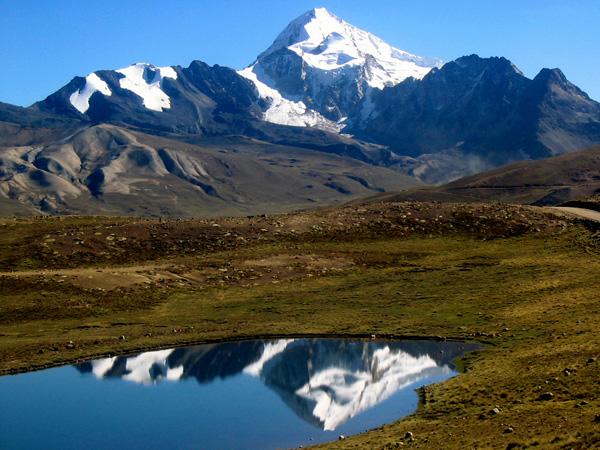 Day 3:
After midnight, the real challenge begins. Right away, you will have to climb a 30 metre ice wall, force your way up a 45 degree wall of compressed snow and jump over crevices. Let this not scare you. The difficulty level is reasonably low, otherwise it wouldn't be a beginner level climb.
The whole climb will take you about 8-12 hours. Do not underestimate this and remember to use your legs, as your arms get tired faster. If you are an experienced climber we suggest you look up other routes to tackle Huayna Potosi. These are obviously technically more challenging and require a higher skill level.
This being a peak of over 6000 metres, the amount of time you spend acclimatising to high altitude, is key! Only go for the top if you've had at least 6-8 days in La Paz. Obviously a good fitness level is required.
4. Cerro Austria Trek / Climb
Route: From Lago Tuni to Lago Khota to Cerro Austria (Condoriri Mountains)
Duration: 2 Days
Difficulty: Difficult
The Condoriri Mountains are named after the Condor because its highest peak looks like the head of the Condor, while the other mountains are its wings. These are an impressive group of mountains and one would easily be discouraged by their scale and of course its predator-like features. Luckily for the ones attempting this particular trek, the hike up the Cerro Austria (5321m) is not as difficult as it looks.
Trek Itinerary
Day 1:
The starting point of this trek is Lago Tuni at 4200m. The first part of the hike requires you to go around the lake and cross the valley to get to Lake Khota. This is a 3-4 hour hike among exceptional landscapes, passing grasslands with grazing llamas while gazing up at some of the highest peaks on earth.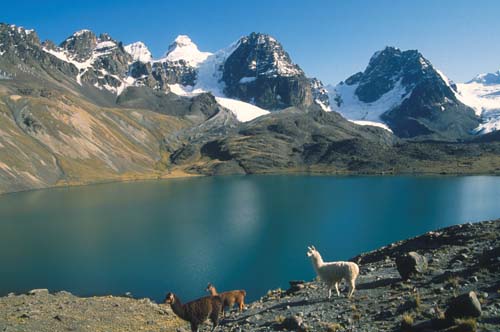 Those who are new at trekking or those who have a short amount of time in La Paz to acclimatize, can do this part of the trek as a day tour. The difficulty level is quite low, giving you every chance to enjoy these extraordinary surroundings.
On the two day trek however, you set up camp at Lago Chiar Khota under the watchful eyes of icy giants.
Day 2:
Like the Huayna Potosi, this trek involves some climbing. After midnight you will trek along small trails before crossing rock formations, after which you will reach the glacier. To cross the glacier, you have to overcome a 50m high climbing part to get to the peak of Cerro Austria. It is a rough climb but all the more rewarding because of it. You will get some time to rest and then you need to climb down and hike back to Tuni.