One item on almost every traveler's bucket list is to experience the magical sights and sounds of the Amazon rainforest, the most biologically diverse ecosystem on Earth. The Amazon basin crosses the borders of several countries, the largest portion being in Brazil but with sections also in Bolivia, Colombia, Ecuador, Guyana, Peru, Suriname and Venezuela. Each country has beautiful and unique portions of the jungle that are worth a visit, so you may be wondering where the best place to plan a trip is. Allow us to make a case for Bolivia and its crown jewel, Madidi National Park.
Did you know? Bolivia Hop was setup by 2 Irish guys in 2014 and was voted the #1 way to travel around Bolivia in 2023! Click here for more info.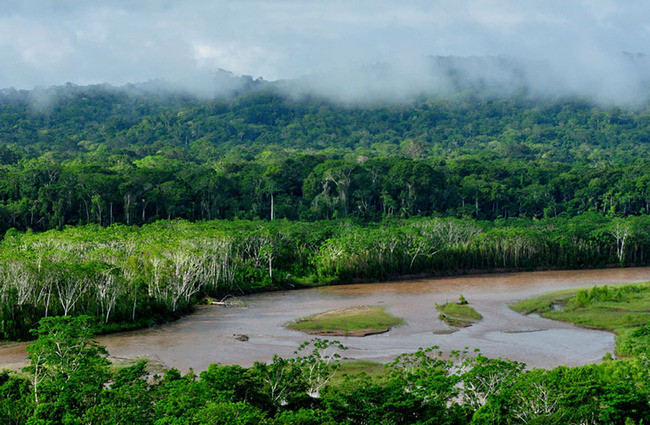 About the park
Madidi National Park is located in the upper Amazon river basin of northern Bolivia, close to the borders of Peru and Brazil. It was established in 1995 and encompasses a total area of 18,958 square kilometres. Due to its status as a protected conservation area as well as its unique natural topography, Madidi contains a particularly diverse array of plant and animal wildlife, even compared to other parts of the Amazon. The park is home to 272 species of mammals, 1,254 species of birds, 496 species of fish, 213 species of amphibians, 204 species of reptiles, 120,000 species of insects (including over 1,000 types of butterfly) and over 20,000 different species of plants. The park is also home to 46 indigenous communities from six different tribes, many of which still practice ancient Amazonian traditions.
Wildlife To See
Among the thousands of species that call Madidi home are some of the most iconic and majestic creatures known to man–animals that capture the imagination of anyone who lays eyes on them. Below is just some of the unique fauna that you can expect to see at the park:
Spectacled Bear (Tremarctos ornatus)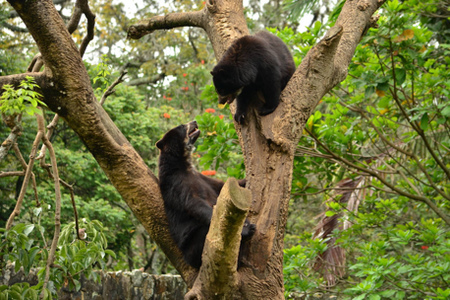 Jaguar
(Panthera onca)
Madidi Titi
(Callicebus aureipalatii)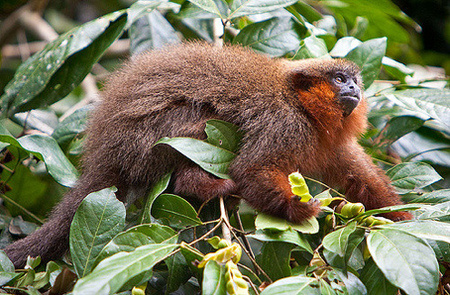 Ocelot
(Felis pardalis)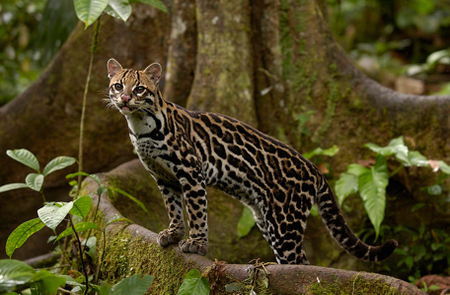 Giant Otter
(Pteronura brasiliensis)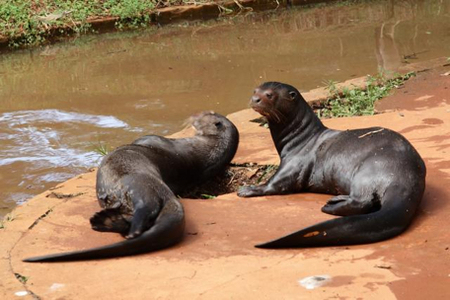 Andean Cock-of-the-Rock
(Rupicola peruviana)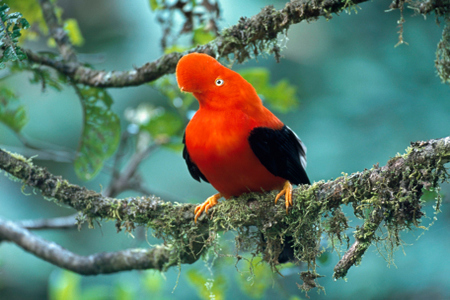 White-Lipped Peccary
(Tayassu pecari albirostris)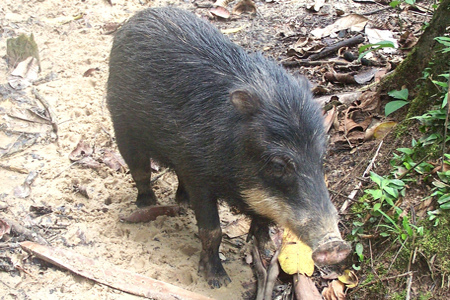 Pink River Dolphin
(Inia geoffrensis)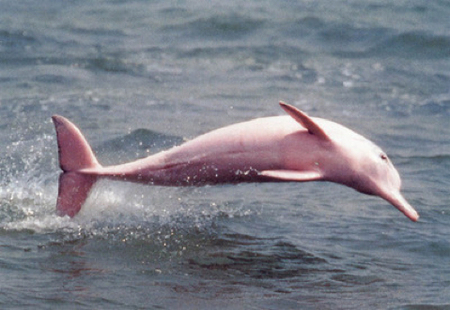 How to visit
Most tours to Madidi National Park will leave from the town of Rurrenabaque. The best way to get to Rurrenabaque from La Paz is by flying. The main carrier servicing this route is Amaszonas and the flight takes about 40 minutes. Those traveling on a budget can also take a public bus, a 20 hour ride across bumpy, unpaved and winding roads as you descend from the mountains into the lowland jungle.
Once in Rurrenabaque, you will be able to depart for a trip deep into Madidi National Park, where you'll be fully immersed in the jungle environment and be able to spot the best wildlife. It's not recommended to try to visit Madidi on your own, but luckily there are several reputable companies which offer short or long tours into the park, along with overnight stays at gorgeous ecolodges (your stay at one of these lodges helps to fund their conservation efforts). Some of our favorite tour operators to book single or multiple-day tours into Madidi National Park are: Bala Tours, Madidi Travel and Mashaquipe Ecotours.
When To Go
Because of Madidi National Park's extremely diverse topography which includes both cold mountain regions and hot lowlands, the weather in the park is highly dependent on which part of the park you will be visiting. However, most people will spend the majority of their time in the tropical lowlands area where the climate remains hot and humid year round. Madidi is subject to two distinct seasons: the rainy season (from November to March) and the dry season (from April to October). The best time to visit is during the dry season, because this is the time of year when wildlife is attracted to the river and thus more likely to be spotted by visitors to the park. Mosquitos are less of a problem during this time as well. However, it should be noted that Madidi is in a tropical rainforest, so precipitation can be expected even during the "dry" season." All of the tour operators that we've recommended above do an excellent job managing any weather changes and making sure that it doesn't negatively affect your trip itinerary.
What to Bring
The best thing to do is to book your trip some time in advance and inquire with your tour operator about what you should bring with you. It's also a good idea to consult with a doctor to discuss whether you should get any vaccinations or anti-malarial medication before entering the jungle. Generally speaking, though, most people will want to bring the following items:
Long-sleeved shirt & pants
Quality trekking boots
Raincoat
Insect repellent
Sunscreen and sunglasses
Hat big enough to block the sun
Sweater or other warm clothing
Binoculars
Camera
Most trips will stay at a lodge which should have mosquito netting, bed linens, etc. but you should definitely check with your tour operator before departing to be sure.
Final Thoughts
Of course, the most important thing you can bring with you is a sense of adventure! Madidi National Park is one of the Earth's most amazing treasures and anyone who is able to pay a visit can consider themselves lucky. If you take the leap and book a trip, you'll have the chance to see incredible wildlife, breathtaking natural landscapes and interesting native culture in one of the Amazon's most unspoiled areas.
It's also possible to combine a trip to Madidi National Park into a longer trip through Bolivia. For travel to other regions, we highly recommend booking a tour with Bolivia Hop–we're the only service that allows you to conveniently hop on and hop off at any point along the way, giving you maximum flexibility.
We hope to see you soon in Madidi National Park or another one of Bolivia's amazing natural or cultural wonders!